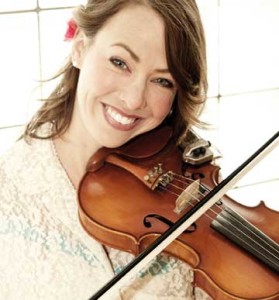 Founded in 2008, local country/Americana and area-favorite Little Jane & the Pistol Whips have made quite a name for themselves in recent years. Front woman, songwriter, and guitarist Ashly Jane Holland possesses a vocal quality that is uniquely her own. You can't exactly pin who she may sound like–all you know is you can't get enough of that voice. It can be smoky, sweet, warm, and inviting. It can take from the highest highs to the lowest lows. The emotion in her voice can only come from someone that has lived through those experiences–as Holland has. Backed up by a trifecta of talented musicians including Russ Smith on bass and vocals, Tom Murphy on mandolin and vocals, and Mike Singer on banjo, Little Jane and her Whips do their very best to match supply to their high demand. The Rolling Zone was recently able to sit down with Holland to talk making music and maintaining that creative itch.
RZ: You've really been making the rounds lately. How has the performance schedule been?
AJH: It's been awesome! We've been very busy. There are times I get a little nervous about the work, so I'll go around and drum up a bunch of work–I call it "beating the bushes." I have to be careful sometimes to not get too busy. We've been playing a lot, and over the holidays. It's been great.
RZ: You have quite a bit of original material. How do you find the balance between that and all the classic covers your shows are known to include?
AJH: A lot of what we cover is what I consider "older country"–Ernest Tubb, Loretta Lynn, Patsy Cline, Hank, Sr.–and then some newer acoustic bluegrass/Americana music like Gillian Welch. Alison Krauss is [also] a big influence. I just bought myself a Merle cd–which I'm sad to admit is my first one–and I'm loving it!
RZ: How do your personal music tastes affect the music you create and perform?
AJH: It's funny because the music in my cd player currently [includes] three Neko Case albums, Hozier, Bon Iver. I'm really liking that, [even though] it's not the kind of music we play, although Neko Case does sort of sound country at times. It would be fun to adopt a bit of that edge with the sweet country. I'm a born and raised Montana gal, so I've got that kind of naivety and sweetness. It would be fun to add that Neko Case edge to the music in up and coming songs. A little more "pistol whip."
RZ: You've got a couple of albums and singles out. How did those come to be?
AJH: I wrote my first song ever, "Go to the Bottle," [which] is on our first album, in 2006 when I lived in Bellingham, Washington. [I was] kind of far away from home, feeling a little reminiscent. So I wrote a song, and you don't now if it's any good if you've never played or written a song. It had a good response. People were like, "Holy crap, you wrote this song?" I thought I was maybe onto something so I kept after it. When I got home to Montana to finish my health services degree, I wrote a handful more, and connected with the band. We've just been so lucky. From there, Paul Decker who owns Music Villa hooked me up with Doc Wiley who is the producer on our first album, This Town, which we put out in 2010. [Then] we got the interest of Eric Funk who then had us on 11th & Grant. It's built from the first moment. That first album really helped us get our foot in the door. It was a financial expense for sure, but it's been worth every penny. This Town was more of a big studio production. We had all different kinds of musicians on it. It was really fun.
RZ: What changed with the second album?
AJH: Two years later, we put out Each Little Note, which was much different. This Town was recorded at Peach Street Studios in Bozeman and Each Little Note was recorded in Gardiner for Electric Peak Recording. It was just three of us hanging out in the same room doing live takes. It's really cool because it's all live, but it has a very different feel. It's obviously a different sound, very acoustic, and not as big of a production as the first album–but I like them equally!
RZ: Of your original material, do you have any particular favorites to play?
AJH: Favorite tunes. Off of This Town, I do really love the song that's written about Livingston–even though it's not a very positive song. It's almost hard to say you really like one of your own songs because you don't know if you're sounding conceited or not.
The band mates and I have different ideas of what our favorite songs are. A lot of times I won't want to do a song and they'll suggest it and we'll do it.
RZ: It probably helps to mix it up.
AJH: Yeah. One of the favorite songs on Each Little Note is called "Simone," which is written about the ghost of Boulder Hot Springs. They have a guitar hanging in their lobby area where people sit after soaking. So I took the guitar, missing a string, up to my room and wrote a song about this Simone who was a woman and a prostitute murdered in the 1920s by a baron. The Inn is supposedly haunted by Simone. She wanders the halls, not able to leave. She has her own suite on the second or third floor. You could stay in that room if you wanted to. And that's one of my favorite tunes. If I forget, the guys will remind me [to play it].
RZ: People around the area are starting to catch on to some of your originals.
AJH: A couple of times at my recent shows I've done solo, people have shown up and [wanted] to request a song. I say, "Sure." And they say, "Can you play 'Best Thing I've Seen'"? I'm always surprised because I never gave that song any thought or credit. It's making me take note that I should probably put more stock in my own original music because people like it.
RZ: That has to be pretty rewarding.
AJH: People singing the lyrics of your song when you're playing it, sometimes it just hits me. That is so special. It's an honor. I used to think only rock stars had that luxury.
RZ: Do you and your band mates come with a prepared set list or does each show require a crowd read?
AJH: We cater the songs to the crowd. If it's the Eagles and all the dancers show up, we try to be mindful of playing waltzes–[which] they love. As many waltzes we can come up with, they will love and take.
RZ: I bet! Do different venues call for different instruments and setup?
AJH: A lot of times we can put together an electric band or an acoustic band. We try to do electric for the bar gigs or the bigger wedding venues, but it's nice that we're able to offer really two different bands.
RZ: How does the band dynamic work for Little Jane & the Pistol Whips?
AJH: We're super lucky. Everyone gets along really well and there's no drama. It's just easy. They're all like brothers. [But] they're all super busy. Everybody has either a wife or a girlfriend and some have kids. Then they have their day jobs or their professions. Tom, the mandolin player, is the only one that's really a full-time musician. His instrument lends itself to many bands, so he's so busy with band work and can play music all the time. Everybody is so good. We have really good musicians around here. Just getting to play with the guys that I play with–[they're] top notch. They could go anywhere and play, but we're lucky here. It's definitely a family.
RZ: You're in the early stages of the next album. How are you kick-starting that process?
AJH: I'm definitely trying to make music more accessible–whether it's opening up time in my schedule to play music, trying to be more mindful of writing every day or [at least] giving music a bit of time. I've written a few songs since 2012, which [seems] like a long time ago, but nothing I'm super crazy about. I'm going to keep at the drawing board and hoping to make some changes in my life that will shake things up. Often times–for me at least–creativity seems to come when I'm a little stressed out, emotional, depressed, [laughs] whatever it is, it starts to flow. The guys sometimes joke and say, "Hey Ashly, why don't you go get your heart broken so we can have some new material?" Thanks guys. But when I'm safe and comfortable and day-to-day, it's easy for me to put creativity on the back burner. Shaking things up a little bit maybe will [give me] some new material, new experiences.
RZ: Can you think of a recent experience that might lead to some new tunes?
AJH: I took a guitar down to Billings for the BMW Rally on the bike and it was incredibly uncomfortable. The guitar was strapped in the back and poking me in the back of the head the whole time. That was neat, taking a guitar to something like that. I kind of thought of this whole new idea of "Music & Motorcycles." That could [involve] my two passions. People were thrilled that this chick showed up by herself and played songs for people at the tent camp. Any of these little experiences are going to lend themselves to the new material–hopefully in the next couple of years.
RZ: What can you say to the people who make it possible to be a performer in this area?
AJH: I would like to say thank you. We were just talking [about this]. My band mate said we are very lucky in Southwest Montana and this area of the United Sates because owners and establishments honor live music and are actually willing to pay for it. We're just very lucky. Definitely a huge thank you to everyone who supports live music and that come out for live music. It makes it so much more fun for us when people are out dancing and enjoying themselves. The fans–we feed off of their energy and enjoyment of our music. Then we get to see their skill and art of dancing, and we really value that as well. I feel very spoiled that we get to get out there and play for these people.
RZ: The music scene around here is and is becoming more prevalent.
AJH: Music is really the cornerstone in a lot of our entertainment in this area. We have a lot of fun, different bands too, from different genres. There's plenty to go around. There's not one saturated genre of music. It seems like everybody can have work because we're all a little different. There's plenty of music around this melting pot of Bozeman to satisfy the taste of everybody. It's awesome.
Little Jane & the Pistol Whips have a number of upcoming performances. They can next be seen Thursday, January 21st at the Bacchus Pub in Downtown Bozeman. They'll then head down the street to the Eagles on Friday the 22nd and Saturday the 23rd. Tom Day from Dirty Shame fame, as well as Little Jane producer, will join the Eagles' shows on pedal steel. On Friday the 29th, the band will perform downstairs at the Sacajawea Hotel in Three Forks. They'll close out the month on the 30th with a show at the Grand in Big Timber. Make sure not to miss out on this genuine, Montana-bred talent at one of these many shows.