Book Signing & Children's Activities
Carry Me Home by Bozeman Author Janet Fox
November 27h , 2021
11 am – 2 pm
Wheatgrass Books
120 N. Main, Livingston, MT
406.224-4510
Wheatgrass Books will host a book signing and thematically related activities for children on Small Business Saturday. Bozeman author Janet Fox will be signing her recently released book for young readers, Carry Me Home.
Carry Me Home:
In the novel Carry Me Home, two sisters struggle to keep their father's disappearance a secret in this tender middle grade novel. Twelve-year-old Lulu and her younger sister, Serena, have a secret. As Daddy always says, "it's best if we keep it to ourselves," and so they have. But hiding your past is one thing. Hiding where you live—and that your Daddy has gone missing— is harder. Lulu knows that all it takes is one slip-up for their secret to come spilling out, for Lulu and Serena to be separated, and for all the good things that have been happening in school to be lost. But family is all around us, and Lulu must learn to trust her new friends and community to save those she loves and to finally find her true home.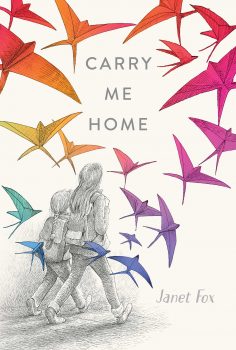 Janet Fox writes award-winning fiction and non-fiction for children of all ages. Her published works include the non-fiction middle grade book GET ORGANIZED WITHOUT LOSING IT (Free Spirit, 2006, new edit 2017), and three YA historical romances: FAITHFUL (Speak/Penguin Group, 2010), FORGIVEN (Penguin, 2011), and SIRENS (Penguin, 2012).
Janet's debut middle grade novel THE CHARMED CHILDREN OF ROOKSKILL CASTLE (Viking, 2016) received starred reviews from Kirkus, Booklist, Publishers Weekly, and Shelf Awareness, is a Junior Library Guild selection, a 2016 Indies Next pick, an ALA Notable Books nominee, and an SCBWI Crystal Kite Award winner. A sequel, THE ARTIFACT HUNTERS (Viking 2020) is out now.
Her debut picture book VOLCANO DREAMS (Web of Life Books, 2018) is nonfiction set in Yellowstone National Park. Janet's newest book, CARRY ME HOME, is a middle grade contemporary novel out in 2021 from Simon & Schuster.
Janet is a 2010 graduate of the MFA/Writing for Children and Young Adults program at Vermont College of Fine Arts, is a former high school teacher, and she has a MS in Marine Geology. She lives in Bozeman, Montana with her husband and their rambunctious yellow lab.
In keeping with the theme of the book, children will be invited to make paper cranes and blessing bags to be taken to Livingston 's Warming Shelter.
Donations may be made for the blessing bags and dropped off at Wheatgrass Books by November 24th. The following is a list of what was recommended by a representative of the Warming Shelter:
Socks, hand sanitizer, hand & foot warmers, gloves, hats, granola bars.
Contact Lisa at 224-4510 with questions. •