Bozeman Public Library's SymBozium, a civil discourse series, engages the community in respectful and productive conversation around complex controversial topics. At this divisive time in our world the need to consider and understand diverse perspectives is critical, especially within our community. This free participatory event series features current topics and keynote speakers representing varied points of view.
"Is the American Dream Dead?" is next in the series on Wednesday, September 28th, at Downtown Bozeman's Ellen Theatre. The event begins at 7pm.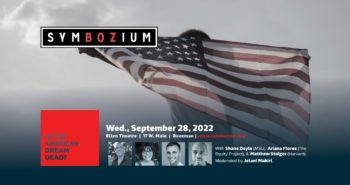 It's long been the mythology of America that anyone – regardless of class, race or gender – can rise from rags to riches if they have a bit of natural talent and an inclination for hard work. But is this really true? Has it ever been? What is the American Dream? Join to discuss the shifting attitudes about the notions of meritocracy and privilege; and how our feelings about the American Dream can affect our behavior, politics, and even our overall sense of well-being.
"Is the American Dream Dead?" will be moderated by Dr. Jelani Mahiri with panelists including Ariana Flores of the Equity Project, research scientist Matthew Staiger from Opportunity Insights, as well as educator and community advocate Shane Doyle.
SymBozium is made possible by numerous local organizations and private citizens that donated to support the series. The events are free and open to the public. Learn more and find an archive of events at www.symbozium.org. •