An afternoon of gluttonous feasting kicks off with a Bozeman favorite event on Thanksgiving Day – Huffing for Stuffing! On Thursday, November 23rd, take part in the 17th annual race in benefit of the Gallatin Valley Food Bank.
Race options include a 10k, 5k with fun run option and Kids' Run course. All courses start and finish near the Museum of the Rockies. There is also a virtual run option for solo huffers and those who can't participate in person. Thanks to local generosity and participation, Huffing For Stuffing has raised more than a half a million dollars since its inception, directly benefiting the Food Bank.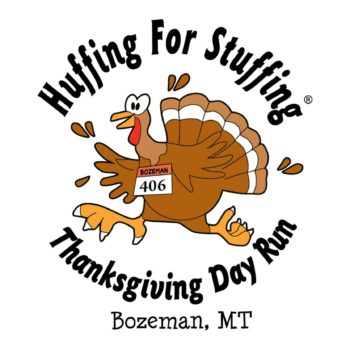 Huffing For Stuffing brings the community together to support our neighbors who rely on the Gallatin Valley Food Bank during a time of great need by providing heart-healthy, family oriented fun in the form of a race. Huffing for Stuffing is presented by HRDC's Gallatin Valley Food Bank in partnership with Big Sky Wind Drinkers. Thank you for supporting Gallatin Valley's Thanksgiving holiday tradition! Participants of all abilities are welcome. For much more information, course maps, and to register, please visit www.huffingforstuffing.com.
Skipping dinner, eating less, or eating less well. This is what thousands of people in Gallatin Valley face every day. The Gallatin Valley Food Bank, whose mission is to improve food security throughout Southwest Montana, is the critical link between food and the people who need it. Food insecurity impacts people from all walks of life and the Gallatin Valley Food Bank reaches them all, from working families to senior citizens. Learn more at www.gallatinvalleyfoodbank.org. •