Click in, Bozeman! On Friday and Saturday, September 22nd and 23rd, join Teton Gravity Research at the Emerson Center for the Arts & Culture to experience the new ski and snowboard film, Legend Has It, on the big screen. This will be thee kick-off celebration for all winter sport aficionados.
TGR's 28th annual film release features an array of awe-inspiring locations, including Patagonia, the California Sierra, Pakistan and TGR's backyard, Jackson Hole. Their elite team of athletes pushes the boundaries in some of the wildest terrain across the globe, helped by the winter of 22/23 that provided record-breaking storm cycles in iconic locations. Legend Has It features stunning cinematography, mind-blowing scenery and TGR's most progressive riding to date.
The TGR team chased lines in the Sierra Nevada during California's snowiest winter on record, rode bottomless powder in the Tetons, explored classic Alaskan spines in the Chugach Mountains and Coast Range, ventured deep into Colorado's backcountry, and embarked on far-flung expeditions in Patagonia and the Karakoram in Pakistan.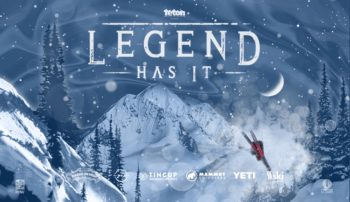 Legend Has It features world-renowned skiers and riders such as Kai Jones, Ian Mcintosh, Nick McNutt, Parkin Costain, Griffin Post, Janelle Yip, Jeremy Jones, Tim Durtschi, Colter Hinchliffe, Maggie Voisin and many more who pushed their limits to create this film. The film showcases insight into athlete personalities and their relentless commitment to adventure.
Legend Has It will premiere with a special small batch event at 6:30pm on Thursday, Sept. 21st. It will be held at the Rialto in Downtown Bozeman and tickets are $75. The film will screen at the Emerson Center on Sept. 22nd and 23rd, with early 6:30pm showings and late shows to follow at 9pm. Tickets are $15 in advance, $20 day of show, and $10 for youth 16 and under. Doors at 6pm and 8:30pm, respectively. Visit www.tetongravity.com to reserve your seat.
Whether you choose to come to the family friendly early show or to get rowdy at the late show, it's sure to be a great night. As always, there will be athlete appearances and a ton of prize giveaways from Sierra Nevada, YETI, Tincup Whiskey, Atomic and Volkl, among others. Plus, everyone in attendance will have a shot at the tour grand prizes including a Nissan Pathfinder Rock Creek edition and a trip to TGR's hometown Jackson Hole Mountain Resort.
One of the world's leading action sports brands, Teton Gravity Research has produced dozens of award-winning feature-length films, numerous television series, and national television commercial spots. •