Sweet Pea spotlights arts, culture, live music & local eats
The Sweet Pea Festival returns to the Bozeman area for its 2021 event, Friday to Sunday, August 6th–8th in celebration of its 44th year.
Sweet Pea is a three-day festival of the arts held the first weekend in August. The Festival kicks off late Friday afternoon in Lindley Park with a performance by Montana Shakespeare in the Parks. Saturday ramps up with a children's run (tentative) and parade that lead the community to the park where the festivities continue through Sunday evening. Weekend entertainment comes in many forms – music of all genres, performances by local theatre and dance troupes, workshops, family friendly entertainment and activities, a flower show, a beer and wine garden featuring Montana microbrews, and countless arts and crafts vendors to stroll through and purchase unique gifts for yourself, family and friends.
The week leading up to the Festival offers additional fun-filled, community events. Artists of all skill levels converge on Main Street for 'Chalk on the Walk' Tuesday morning. On Wednesday evening, local restaurants line Main Street to offer up samples of their fare, while musicians entertain, during the ever popular 'Bite of Bozeman.' The Sweet Pea Art Show will be on display at the ERA Landmark Downtown Visitor's Center as well.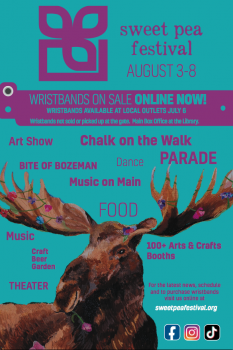 And of course, one of the biggest draws of Sweet Pea is the live music! This year's slate will include headlining performances by Langhorne Slim, Karl Denson's Tiny Universe and Chastity Brown. Also appearing will be the Jacob Jolliff Band, Tall Tall Trees, Dead Sky, The Wilder Blue, Karina Rykman, Dead Lee and Swamp Dawg.
Events leading up to Festival weekend are complimentary. Entry to those in Lindley Park requires the purchase of an admission wristband – Full Weekend Access wristbands are $25 and free for kids 12 and under. Please note: 2021 wristbands must be purchased in advance through the website or ticket outlets, as they will not be available at the gate. They may also be found at the main box office – located in front of the library – during event weekend.
There's SO much dance, theatre, family entertainment, and other activities to discover! For further festival information and to purchase 2021 wristbands, visit www.sweetpeafestival.org. •