Summer SLAM Fest showcases Montana artists, musicians & artisans
Back in Bogert Park for its annual event showcase, the Summer SLAM Festival will take place Saturday and Sunday, August 6th and 7th. As it has in years past, the 2022 festival features artists and performers, culinary artisans, and family activities, as well as breweries and distilleries from around the state. One of the unique aspects of the SLAM festival is its spirit of inclusion and community. Free to attend, the Summer festival is open to everyone to come and enjoy and connect with the creative people of our great state.
Artists Market
The numerous artists representing themselves at SLAM range from emerging talent to renowned award-winning professionals. Those who specialize in painting, ceramics, jewelry, sculpture, glass, woodworking, textiles, photography, body products, and mixed media will be offering their work for sale both days during the festival. Not only will your dollars go directly to the creator, but you have the opportunity to develop a personal connection with the artists. Learning more about the inspiration for a given work of art directly from its creator gives a deeper appreciation for the end result. Those gift shopping are assured their recipient will be given a handmade gift that is unique and embodies the spirit of the artist.
Artist Demonstrations
While perusing the amazing artists at SLAM, there may be a curiosity about the processes necessary to create such unique and collectible works. The SLAM demonstration tent is the perfect place to explore. Demonstrating artists will give in-depth presentations in a casual setting where audience members are encouraged to engage with the artists and ask questions about their processes. The demonstrations will offer a glimpse at the passion required to create art as a career.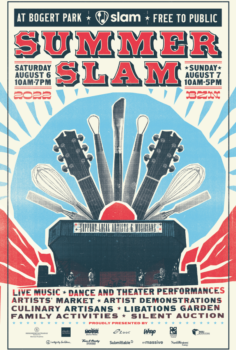 Live Music & Performances
The SLAM lineup features the immense talent of the many musicians right here in our state. With sets by the likes of Storyhill, Band of Drifters, Rocky Mountain Pearls and The Waiting, as well as several singer/songwriters like Russ Chapman, Tom Catmull and Wes Urbaniak, the stage musicians are sure to impress and represent a wide range of genres for attendees' listening pleasure. In addition to the world class music lineup, the stage at SLAM will showcase performances of dance, a yoga demonstration and more.
Artisanal Food
One of the benefits of growth in our state is the introduction of new flavors on the food scene. Rest assured, you can still get a traditional hot dog or a hand-scooped ice cream cone at SLAM, but you can also choose from diverse culinary offerings sure to tantalize every taste bud. Be sure to bring a hearty appetite, because you're going to want to taste something from every one of the culinary artisans bringing their delicious dishes to the festival grounds.
Montana Libations Garden
A refreshing adult beverage can really complement a meal from one of the food artisans at SLAM. Step into the libations garden and you'll find something sure to hit the spot, no matter your preference of pour. The microbrewery scene in Montana has exploded in recent years, and SLAM is proud to exclusively serve delicious beers from Montana breweries. If liquor is more your speed, distilleries from around the state will be offering samples of some of their products and featured cocktails.
The 2022 Summer SLAM Festival is the perfect place to celebrate the Arts in Montana. Festival hours are 10am–7pm on Saturday, and 10am–5pm on Sunday. Come support local artists and musicians at SLAM! Learn more about the event at www.slamfestivals.org. •