Livingston's Shane Lalani Center for the Arts concludes their inaugural concert series 'Shane Center Presents' this month. Robin & Linda Williams are set to perform on Thursday, September 28th. Music starts at 7pm.
Robin and Linda Williams are closing in on a five decade-long career that has included 24 personal recordings, thousands of concerts on three continents, a Robert Altman-directed movie, hundreds of performances on NPR's A Prairie Home Companion and other radio and television shows. As live performers they are second to none and are at home on whatever stage they find themselves, be it a tiny coffee house or bar, or a large, storied concert hall or festival. As gifted songwriters, the duo has earned the respect of their musical peers, their songs having been recorded by such well-known artists as Mary Chapin Carpenter, Tom T. Hall, Tim and Mollie O'Brien, Mary Black, The Seldom Scene and Emmylou Harris, to name a few.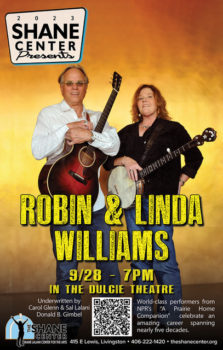 'Shane Center Presents' has brought an eclectic roster of world-class musicians to the Dulcie Theatre this year, including Australian guitar virtuoso Joe Robinson, composer Philip Aaberg and NY NY Dueling Pianos. Following a welcoming response by the community, event organizers are already looking to 2024 for a new season of fantastic live music.
Individual ticket pricing for Robin & Linda Williams is $30 for adults, $23 for seniors/college students/military and $15 for youth. Visit www.theshanecenter.org or call the box office at (406) 222-1420 for tickets. Concessions available. UV air filtration in the Dulcie Theatre and lobby.
The inaugural season of Shane Center Presents is generously underwritten by Carol Glenn & Sal Lalani and Donald B. Gimbel. •