Travel to the vibrant landscape of Spain as world-renowned guitarist Pablo Sáinz-Villegas joins Bozeman Symphony to share an unbridled passion for his homeland May 20th and 21st. The concert, "Postcards from Spain: Pablo Sáinz-Villegas Plays Rodrigo," also includes Debussy and Ravel's musical interpretations of Spain's cultural tapestry.
Guitarist Pablo Sáinz-Villegas has been acclaimed by the international press as the successor of Andrés Segovia and an ambassador of Spanish culture in the world. Since his debut with the New York Philharmonic under the baton of Rafael Frühbeck de Burgos at the Lincoln Center, he has played in more than 40 countries and invited to play with orchestras such as the Berlin Philharmonic, Chicago Symphony, Philharmonic of Israel, Los Angeles Philharmonic, and the National Orchestra of Spain, making him a benchmark for the symphonic guitar.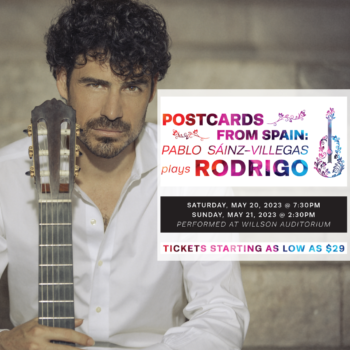 The second portion of the program features interpretations of Spain by two French composers. The first is Debussy's Images for Orchestra, L. 122:2. Ibéria. Spanish composer Manuel de Falla once said, "Debussy knew Spain from his reading, from pictures, from songs, and from dances with songs danced by true Spanish dancers." This level of intrigue that Debussy had for Spain allowed him to create a vivid and emotional portrait of the country. The final piece of the program is Ravel's Boléro. This popular piece starts with a single theme that builds consistently before finally reaching its bold climax.
Performances will be held on Saturday, May 20th at 7:30pm and Sunday, March 21st at 2:30pm, at the Willson Auditorium in Downtown Bozeman. Individual tickets are available for purchase online at www.bozemansymphony.org or by phone at (406) 585-9774. Tickets at the door based on availability. Adult tickets begin at $29 with student-discounted tickets available.
These performances would not be possible without strong community support and sponsorship. Bozeman Symphony wishes to thank Robyn L. Erlenbush, ERA Landmark Real Estate, Sal & Carol G. Lalani, Ken & Mary May, and Barbara & Ben Phinney for sponsoring this performance. Bozeman Symphony also wishes to thank season sponsors, Stephen Schachman and Ritva Porter. •