Register for Fourth of July race in benefit of Reach Inc.
On Monday, July 4th, Reach Inc. will host its 15th Annual Race for Independence. This year's event will be held in person, but virtual options are also available. Get an endorphin-filled run in before the family barbecue and support this great cause!
The course weaves through trails in north Bozeman. These paths offer sweeping views of the Gallatin Valley landscape. People who prefer to walk are welcome to join the fun. No dogs, please. Race starts: 10K will start at 8am, 5K will start at 8:25am, and the 1K will begin at 8:30am.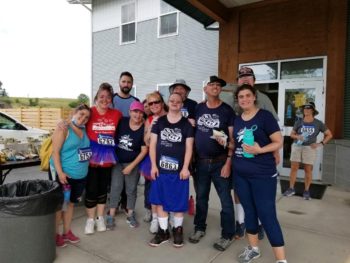 In order to prevent vehicle traffic on the course, attendees are requested to arrive before 8am. Bib timing will be used and medals awarded at the in-person race for top runners in each category. The race begins and ends at the Reach Work Center, located at 322 Gallatin Park Drive. Parking will be available at surrounding businesses.
Virtual participants can complete a 1K/5K/10K route of their choosing anytime on July 4th, and share the results with Reach. Registration is $25 for the 10K/5K, and $15 for the 1K. Optional, snazzy, short-sleeved, tee shirts will be sold for $10. Find additional information and register at
www.reachinc.org
.
Proceeds benefit the people served by Reach Inc., a local nonprofit that provides residential, vocational and transportation supports to adults with developmental disabilities. •