Montana Chamber Music Society presents a special performance by famed composer Bruce Adolphe on Friday, March 24th. The concert will be held at Reynolds Recital Hall on the Montana State University campus. Music begins at 7:30pm.
Adolphe is a composer, educator, performer and author well known for his public radio show, Piano Puzzler. Part lecture, part comic fantasy, "The Mozart Murder Trial" is his musically revealing investigation into the dramatic narrative of Mozart's Piano Quartet in G Minor proving that sonata form has many characteristics in common with courtroom procedure.
The program also includes a Mozart-inspired original work, "Einstein's Light." The performance will also feature artists Angella Ahn (violin), Julie Goswiller (piano), Käthe Jarka (cello) and Chi-Chi Lin Bestmann (viola).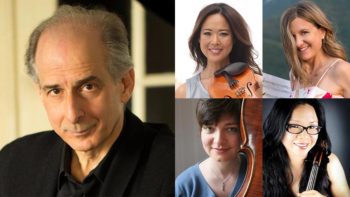 Admission to Montana Chamber Music Society performances is $30 for adults, $20 for seniors, and $10 for students. Tickets may be purchased at www.montanachambermusicsociety.org. These are also available at the door, based on availability. Net proceeds from these programs support the MCMS mission to present great chamber music performances throughout Montana year-round.
Adolphe will likewise front two additional shows as part of his Montana tour. "An Intimate Evening of Music & Conversations" will be held at a private Bozeman residence on March 23rd, as well as a performance at MSU Billings' Cisel Hall on March 25th. Visit the MCMS website for tickets and additional details. •