Just in time for the holiday season, Bozeman's own Open Door Theatre will present three intimate performances of Every Christmas Story Ever Told (And Then Some!) December 9th–11th. Show time is 7pm on Friday and Saturday, with a Sunday matinee to follow at 3pm.
To set the stage, so to speak, a performance of A Christmas Carol goes amazingly awry when Joan and Michael decide they want to do something different than the B.H.C. (Beloved Holiday Classic) A Christmas Carol, much to the Grinc… (ahem) Jim's initial dismay. The trio enlists the audience's participation in creating something unique and fun.
Things become a little chaotic when familiar, and not-so-familiar, characters arrive to share their tales. Some of the characters include a green-nosed reingoat (yep, we do mean green and we do mean reingoat), George and Scrooge, Cindy-Lou Who, some North Pole residents, and seasonal icons who introduce the audience to traditions and celebrations from many places around the world. And yes, Virginia, there probably is a Santa Claus in this production!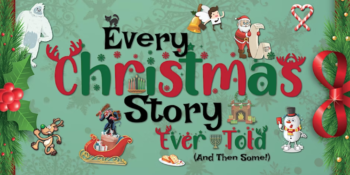 First performed in New Jersey in 2003, the authors – Michael Carleton, James FitzGerald and John K. Alvarez – created their very own B.H.C. with this "madcap romp through the holiday season!"
The cast includes John Larkin, John W. Olson and Tami Renner as Michael, Jim and Joan, with Dave Kelsen as the Announcer. This production is being co-directed by Debbie Jamieson and Valerie Watson.
The performances will take place in the historic Campeau-Martin House, located at 419 South Grand in Bozeman. This breathtaking home will be exquisitely decorated for the holiday season and is the perfect setting for this holiday comedy. Note: because of the intimate nature of the home, seating is limited to 40 people for each performance and street parking is available. Be sure to get your tickets early!
Admission is $20, which includes a dessert buffet, and will be held in the Campeau-Martin House. Tickets may be purchased through www.eventbrite.com. Open Door Theatre is a membership-run community theatre dedicated to making the art of live theatre available to audiences and participants in the Gallatin Valley. Be sure to follow them on social media for the most up to date event information and performance announcements. •