Former MSU grad to lecture on book about Montana's early Black settlers at Oct. 19 forum
From MSU News Service
A former Montana State University history graduate student will lecture from his new book about Montana's early Black settlers at 4 p.m. on Tuesday, Oct. 19, in the Procrastinator Theater on the MSU campus. 
Anthony W. Wood, who graduated from MSU in 2018 with a master's degree in American history, will talk about his book, "Black Montana: Settler Colonialism and the Erosion of the Racial Frontier, 1877-1930," which was published this year by the University of Nebraska Press.
Wood's lecture, which is free and open to the public, is co-sponsored by the Ivan Doig Center and the Department of History and Philosophy.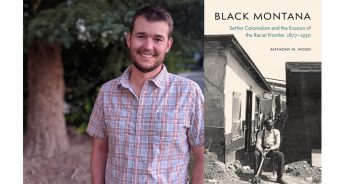 Wood's research was inspired by his work as a research historian for the Montana Historical Society on Montana's African American Heritage Places project. He helped create a large digital map of Helena that showed more than 100 buildings and houses owned or rented by Helena's African American community between 1880 and 1930. Helena had one of the largest and most vibrant African American communities in the state. By the late 20th century, most of those buildings were gone, and the history of their occupants forgotten.
That map sparked Wood to ask what the lives of Montana's black residents were like, and more urgently, why they left and why their history has been erased. His book explores that story, not just in Helena but in other communities across the state.
Wood is a currently a Ph.D. candidate in the Department of History at the University of Michigan studying other African American communities in the intermountain West.
For more information about the forum, go to montana.edu/doig. •