A contemporary spin on the classical genre will thrill audiences as part of Bozeman Symphony's 2022-23 season this month. "Current Commotion: Seven Pillars" is set for a single-night performance on Saturday, November 19th at the ELM. The evening begins at 7:30pm.
Bozeman Symphony pushes the limits with its experimental series, 'Current Commotion,' that champions new music by living composers. Join for its inaugural performance of critically acclaimed composer Andy Akiho's "Seven Pillars," a bold, genre-defying piece featuring Sandbox Percussion.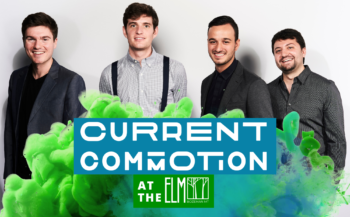 Described as "exhilarating" (The New York Times), and "virtuosic and utterly mesmerizing" (The Guardian), Sandbox Percussion (Ian Rosenbaum, Terry Sweeney, Victor Caccese and Jonny Allen) has established themselves as a leading proponent of this generation of contemporary percussion chamber music. Brought together by their love of chamber music and the simple joy of playing together, Sandbox Percussion captivates audiences with performances that are both visually and aurally stunning.
Adult admission for "Current Commotion: Seven Pillars" ranges $45–$125. Tickets may be purchased in advance at www.logjampresents.com/theelm or at the door, based on availability. Those interested may visit the Symphony offices, located at 1001 W Oak, Ste. 110, or call (406) 585-9774 for further details. •