IOB stages cherished Mozart comedy
Intermountain Opera Bozeman is set to present The Marriage of Figaro mid-month. Performances will take place Friday and Sunday, May 13th and 15th. The Friday performance begins at 7pm, with a Sunday matinee to follow at 3pm. Both will be held at the Willson Auditorium.

Settle in for Mozart's most beloved comedy. The hit British TV series Downton Abbey – an era of high fashion and dramatic social change – provides the inspiration for this stunning production.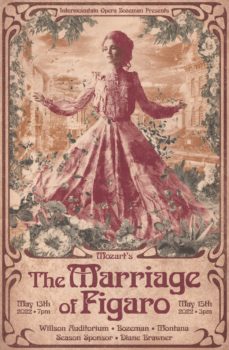 Classic FM said of the production, "The composer revolutionized Italian comic opera with The Marriage of Figaro, his first collaboration with a great librettist, Lorenzo da Ponte. The plot's wild doings are balanced against a score of great formal balance and musical logic, allowing Mozart to span everything from the absurd to the sublime in music that perfectly complements da Ponte's onstage business."

Tickets for these performances are available for purchase now. To reserve seats for The Marriage of Figaro, visit www.intermountainopera.org or call (406) 587-2889.

Established in 1979, Intermountain Opera promotes and shares the joy of opera in Montana and surrounding areas by providing affordable, high quality opera performances to audience members of all ages. IOB also provides educational outreach to area schools and communities. •