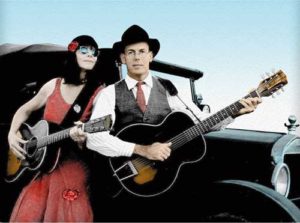 Jon Hogan and Maria Moss invented a genre—scorch folk—to describe their danceable blend of Carter Family tunes, fiery Appalachian traditionals, "original songs with old souls," and offbeat covers of pop hits. Their shows are equal parts early country, power-folk, and old-timey valentine, with mountain harmonies, jazzy vocals, scat, yodeling, Maybelle-Carter-style guitar picking, upright bass, and a percussive rhythm-guitar chop that is like a driving wheel. The Rolling Zone caught up with the woman herself ahead of Hogan & Moss' extensive Montana tour—which includes stops at the Eagles Lodge of Bozeman, Neptune's in Livingston, and the Sac Bar in Three Forks, among many others—to talk preserving the folk tradition whilst keeping things interesting on the record and the road.
RZ: Hey Maria, how are you?
MM: I'm good! We're just doing some errands in Montrose, CO during a couple of days off.
RZ: Much deserved, I'm sure. I'm happy to get you on the phone. You guys are a curious duo.
MM: We are. [laughs] We are colorful fish in some environments.
RZ: That's perfect! How is the tour going so far?
MM: It's been going absolutely wonderfully. For five weeks, we were based in Santa Fe and commuting to our gigs [throughout] Colorado. [We'll play] for the last time in Colorado on Sunday night, then we'll be on our way to the northern leg of the Great Western Tour—can't wait to get to Montana. This'll be our fifth year up there. We're looking forward to getting back.
RZ: It's a great time to come up here, too. People will be excited to see you.
MM: It's been a really interesting time. Our passion in life and our absolute mission is to be inside these old songs with audiences who really appreciate them. And then, we really enjoy surprising them with covers Tom Waits, Townes Van Zandt, and the Butthole Surfers even. We have really good relationships with audiences all over the west. It's our joy in life to do this.
RZ: You've created a genre you call "scorch folk." Explain that sound and how it differs from what you would consider to be traditional folk.
MM: If you listen to an artist like Dock Boggs, a coal miner in West Virginia, some people have said he was the first punk rocker. There's a real, raw, emotional sound to a lot of the old music. Over the years—through genres like bluegrass and the folk music movement of the late 1950s and the early 60s—that became kind of watered down in some ways. It became very palatable and listenable, and it kept the songs alive. It kept them part of the American musical conversation, but didn't necessarily honor the emotional vigor, one might say, of the early recordings. Jon Hogan, my band leader, is a performer who really inhabits a song in an old-time way. Sometimes we say our job is to get on stage and go into a trance in front of people for a couple of hours, and then come back and hug them afterwards. That's a little bit of what we do, that kind of describes scorch folk. When we play the Carter Family songs, those are sweet ballads. The Carters recorded, I believe, about 300 songs—and not one of them in the minor key. It really takes a minor key or a modal sound to get what we call the "scorch folk" vibe.
RZ: Tell me about your most recent projects, original In Dreams I Go Back Home and Carter Family-inspired You've Been That Friend to Me.
MM: [In Dreams]was recorded by a really wonderful singer/songwriter and producer Jonathan Byrd of Carrboro, North Carolina. It's tracked, it has electric guitar and pedal steel, it's a wonderful America record of original songs [written] by Jon and one by myself. It's sitting in our duplicator in Austin—it's mastered, the cover is ready, and we are just waiting to raise what we need to get that one out. It's a very different sounding record than You've Been That Friend to Me, the one we're touring right now.
RZ: Really. How does it differ?
MM: There [are] 17 songs, all recorded in a single session in one day, around one microphone, onto half-inch tape—the old way, then digitized. It's a very natural sound. It's just how it all was with the players. There's a fantastic fiddler on that record, who goes by the name of Dr. Sick. He's based in New Orleans. He really lifts that record up. Of all of those 17 old time songs, seven of them are Carter Family songs. Our study of the Carters and our love of them is really a big part of our work. We really help people to continue to understand how important they were, and what pioneers they were in terms of a lot of different forms of American music.
RZ: Give us a peak into the new record. How do the old-time tunes inspire this collection of originals?
MM: All of our original music is based in a very old-time, rootsy sound because we play so much of that. The title track [of the to be released album] "In Dreams I Go Back Home," is a Jon Hogan song we open just about every show with, the way the Carters opened their shows with a song called "Keep on the Sunny Side." That particular song is in the style of the Carters. But there are other [varieties of] songs on the record. There's a very Irish-inspired song, "Chronicle of the Potato Famine," that Jon wrote. There's a very ethereal, beautiful, dreamy Americana song called "Laramie," Jon wrote about the death of Matthew Shepard. It's an important song to us. The first track is really electric guitar, goth, dark, rock about a southern dystopia. So there are old-time threads woven throughout the record, but there's also a lot of the 1970s and a lot of original Jon Hogan string band sound.
RZ: Something to look forward to. Until then, you're touring the Rocky Mountain West and Texas, then return to Europe in the spring. How do Hogan & Moss performances differ from region to region?
MM: One of the ways in which the music adapts to location is that we hire a lot of local players. Jason Uhlmann [formerly of the Rocky Mountain Pearls] is one of the best bass players we've ever played with. He's just a great member of the band. When we went to Ireland, we found a bass player who played really beautifully on what is called a tea chest bass. He understood American old-time music, but he had great flare based in the fact he was Irish and we were playing in Galway. Touring in Europe, we had a great bass player in Brussels who came from a much more jazz background. We had a bass player in the Netherlands who came from a bluegrass background. We try to make space for local players to really express themselves in this music. We really enjoy that. We just like to turn them loose.
RZ: That's really cool. Every performance is unique in that way.
MM: The music flows with the players [who] are available in local places. Folk music is all about adaptation.
RZ: You play a blend of songs handed down and those of your own creation. How do your performances find their balance? What can the people of Southwest Montana expect to see at one of your many shows in the coming weeks?
MM: We read the audience. Depending on what the audience seems to be enjoying, it's possible we will play two hours of really fast, minor key, dark, scorch folk, mountain, almost rock. For a different audience, we might play one or two of those songs just to surprise them, and then lots and lots of Carter Family, waltzes, and ballads. Those are the two extremes. In between that is a blend according to the room. [We play] crazy covers—I call them tilted covers—where we'll take a song and set it to a melody completely out in another genre, and then just perform it with a lot of energy. We're doing an Amy Winehouse song as a ragtime blues [number] right now, kind of having fun with that. So those are mixed in as well.
RZ: That sounds really cool.
MM: We really love people. We couldn't tour as much as we do if we didn't really enjoy connecting with people—not just as audiences, but as individuals. We've gotten pretty good at reading the room.
RZ: I'm sure the establishments you play are appreciative of that fact.
MM: We're there to support our venues. We want to see them do well because we were there. Venues and artists need to support each other.
RZ: Touring, making your craft mobile, appears to be a lifestyle both you and Jon passionately ascribe to. Do you see yourselves slowing down, maybe centralizing your performances, or is this the life of Hogan & Moss?
MM: We really enjoy touring. We're starting to develop more speaking and teaching engagements. We have a speaking residency every September at Schreiner University in Kerrville, TX. We also do a lot of work through the Texas Heritage Music Foundation, based at Schreiner. [It] sends us into schools, nursing homes, and rehab centers. That kind of work makes it possible for us to be in one place. We see ourselves eventually being able to spend more time in the Texas Hill Country and the region of the University, and possibly to expand that work to other areas. We choose parts of the country to tour partly for great audiences, but also because we go to the parts of the country we really love. Of course we'd like to spend more time in one place, but I would say not more than about four months of the year. That'd be enough for me.
RZ: Where do you hope to take your music in the future? What's next for you guys?
MM: Absolutely. The next record is going to be recorded in New Orleans and produced by Dr. Sick. He's a fantastic fiddler we love to play with. [He'll] be bringing in all kinds of horns, accordion, and instruments we don't normally record with to get a real full, fun sound. [It will be] all covers. You just have to see one of our shows. It's hard to describe what these covers are like. You take Bob Dylan's lyrics and put them to Jimmie Rodgers' melody, or you take a minor, dark Leonard Cohen song and you give it a little major key, bluegrass high speed fun. That's going to be the next record.
RZ: Well we sure are looking forward to your shows here in Montana.
MM: Oh cool! We're looking forward to returning to the Stonefly of Coram and Neptune's in Livingston. Those places have been really important to us. A lot of [the other] places are new to us. I think people are going to be surprised and delighted because we don't sound what we look like.
Come see for yourself at one of many Hogan & Moss performances throughout the area. They'll first stop in at Norris Hot Springs on Aug. 7th at 7pm. Then over to Bozeman for a performance at MAP Brewing on Aug. 8th at 6pm, before a double-header at the Eagles on Aug. 11th and 12th at 9pm both evenings. They next head up the canyon for a show at Gallatin River House of Big Sky on Aug. 13th at 9pm. The band travels to Livingston for a performance at Pine Creek Lodge on Aug. 14th at 6pm, and another at Neptune's on Aug. 15th at 5:30pm. They'll follow this string of shows with a few more at the Stonefly of Coram on Aug. 17th at 8pm, Phillipsburg Brewing on Aug. 18th at 5pm, the Sacajawea Hotel of Three Forks on Aug. 19th at 9pm, the Bull 'n Bear Saloon of Red Lodge on Aug. 20th at 7pm, and the Grub Stake in Helena on Aug. 26th at 8pm. They'll head to Ennis for two shows on Aug. 27th—the first at Willie's Distillery at 3pm, followed by the Gravel Bar at 8pm. They'll close out this portion of the tour with a return to the Murray of Livingston on Sept. 1st at 8pm.
So pick a show! You have NO excuse to miss Hogan & Moss in action. •