Assistant Secretary for Indian Affairs Newland to speak in place of Haaland at American Indian Hall grand opening Saturday
From MSU News Service
Montana State University's grand opening for the American Indian Hall this Saturday, Oct. 16, will feature a speech by U.S. Assistant Secretary for Indian Affairs Bryan Newland.
Newland will appear in place of U.S. Interior Secretary Deb Haaland, who had to cancel her trip to Bozeman due to a family emergency.
Newland was sworn into office in September. He is a citizen of Michigan's Bay Mills Indian Community (Ojibwe), where he previously served as tribal president. He is a graduate of Michigan State University and its College of Law.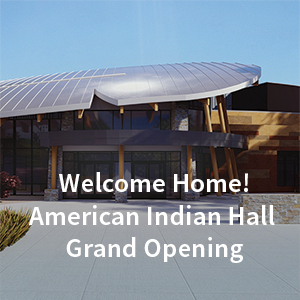 Grand opening festivities will begin shortly before 10 a.m. with a procession from the American Indian Resource Center — the 1,100-square-foot room in the basement of Wilson Hall that has housed Indian student activities since 1974 — to the new building on the east end of the university's Michael P. Malone Centennial Mall.
Speakers at the event will include Assistant Secretary Newland and Henrietta Mann, a nationally recognized tribal elder enrolled with the Cheyenne-Arapaho Tribes of Oklahoma, MSU professor emeritus in Native American studies and the inaugural Endowed Katz Family Chair in Native American Studies. Other speakers include MSU student Georgeline Morsette representing the current American Indian Council. Also speaking will be Dennis Sun Rhodes, an MSU architecture graduate and member of the Northern Arapahoe Tribe, who will speak about his inspiration for the building's design.
The speakers will be followed by a procession into the building and public tours. The 31,000-square-foot building will house the Department of Native American Studies  offices; classrooms for use by all students; rooms for tutoring, counseling and advising; cultural ceremonies; and a drum room. MSU's Senior Diversity and Inclusion Officer's office will also be housed in the building. •