The Downtown Bozeman Association and downtown merchants are proud to present the 2023 Crazy Days Summer Sidewalk & In-Store Sale! It's the biggest, the best, and the original – set this year for Friday to Sunday, July 21st–23rd from 10am–6pm each day (times may vary).
Downtown merchants will take to the sidewalks and invite shoppers into their stores for unbelievable sales on spring and summer merchandise. The event will feature over 200 businesses in what has become the summer tradition deal-seekers look forward to every year.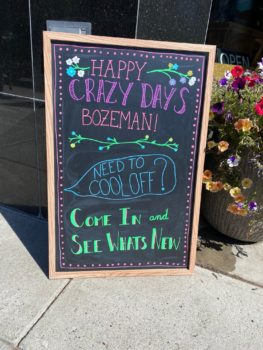 Stroll downtown and check out the 2023 return of this Bozeman-favorite gathering. This event is FREE and open to the public, and will go on rain or shine. Note: Please visit www.downtownbozeman.org for details about what to expect from this year's sale, as well as information about participating retailers.
Annual DBA special events include: the Christmas Stroll, Bridal Walk, Crazy Days, Art Walk series, Music on Main, Cruisin' on Main car show, and many more. The DBA also administers the Downtown Dollars program and several other downtown enhancement programs.
A member of the Downtown Bozeman Partnership, the purpose of the Downtown Bozeman Association (DBA) is to promote Downtown Bozeman as a center of business, culture and entertainment; to conduct and promote activities and events that build a strong local economy; and to contribute to the well-being, growth and vitality of Downtown Bozeman. •