One of Bozeman's favorite sources for regional history and beyond, the Museum of the Rockies has announced a spring special event series centered around some our earliest inhabitants – dinos! The 2nd annual Dinosaurs & MOR! is set for Friday and Saturday, April 14th and 15th. This national gathering of leading paleontologists will bring together hundreds of people and feature renowned scientists from around the country. Tickets are on sale now.
The two-day event is designed for both adults and families with children. It will feature a range of activities to celebrate the science of paleontology, including a keynote talk from John "Jack" Horner, Presidential Fellow at Chapman University, former Curator of Paleontology at MOR, and scientific advisor to the Jurassic Park and Jurassic World film series.
Dinosaurs & MOR! kicks off on Friday evening with a members-only appreciation night. The main events follow on Saturday with a fascinating slate of lectures, paleontology-based activities fir for the whole family, art workshops and special dinner event featuring keynote speaker Jack Horner.
Visit the Museum website for further event details, ticketing access and workshop registration. Dinosaurs & MOR! will offer a little something for everyone, whether your preferred dinosaur species lived during the Triassic, Jurassic or Cretaceous period.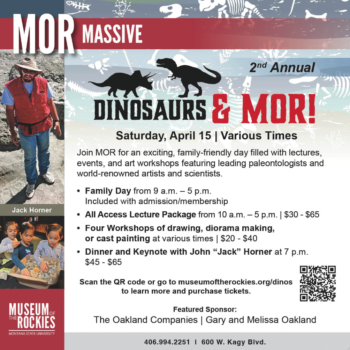 Also at MOR, two new changing exhibits are now open to visitors alongside its famed Siebel Dinosaur Complex. Marvelocity: The Art of Alex Ross and Under the Arctic: Digging into Permafrost are on display through May 7th. Here's a closer look at the exhibitions.
Considered one of the greatest artists in the field of comic books, Alex Ross has created some of the most iconic images known to fans today. For nearly 30 years, he has revitalized classic superheroes into works of fine art by illustrating characters including Spider-Man, Captain America, Iron Man, Storm from the X-Men, the Avengers, Black Panther, and many more.
In addition to highlighting original art from his most recent book, Marvelocity, visitors will also learn about how Ross developed into a great illustrator through his childhood drawings, preliminary sketches, paintings, and 3-dimensional head busts of characters in the Marvel Universe. Hear first-hand from Ross about the making of Marvelocity in an exclusive video interview.
Step into the shoes of climate science researchers, piece together clues, and solve engineering challenges posed by thawing permafrost in Under the Arctic. This interactive exhibit weaves together authentic narratives from people whose lives have been impacted by the changing global climate, highlighting the resiliency and ingenuity of everyday communities.
Incorporating the sights and smells of the Western Hemisphere's only permafrost research tunnel and Ice Age fossils, Under the Arctic: Digging into Permafrost is an immersive exhibit experience for all ages.
MOR is open from 9am–5pm daily. For more information about these exhibits and other museum happenings, visit www.museumoftherockies.org. •