Classic automobiles in the spotlight for annual car show downtown
The Downtown Bozeman Association and the Cancer Support Community, along with a number of gracious sponsors, present the 22nd annual "Cruisin' on Main" Car Show on Sunday, August 21st. The show will run from 9am–2pm on Main Street between Willson and Rouse Avenues in Downtown Bozeman.
All registered cars will receive a complimentary dash plaque and gift bags filled with fun goodies and business coupons. There will also be over 15 trophies awarded in various car classes, in addition to the treasured "Best in Show" and 1st, 2nd and 3rd "People's Choice" accolades.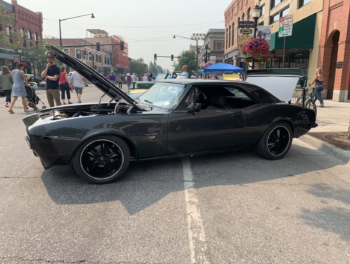 Also during the car show, enjoy live music, food and fun throughout the event. There will be prize drawings, a 50/50 raffle, a showcase display, and, of course, a chance for everyone to vote for their favorite vehicles. Be sure to check out the best car show in the state!
Since 2001, the Downtown Bozeman Association has hosted the "Cruisin' on Main" Car Show in historic Downtown Bozeman. It's since become a premier, state-wide event celebrating classic cars, trucks and motorcycles. Beginning in 2011, DBA partnered with Cancer Support Community to raise awareness of the support offered to all people affected by cancer. The mission of CSC is to "ensure that all participants are empowered with knowledge, strengthened by action and sustained by community." All CSC programs are offered free of charge, and this community event helps make that possible.
There is no spectator admission fee for "Cruisin' on Main," so funds for this cause come from sponsorships, entry fees, merchandise sales, raffle tickets and most importantly – your donations! Stop by the Cancer Support Community booth near the registration area to make a donation, pick up a calendar, or to learn more. Further event details can be found at www.downtownbozeman.org. The 2022 "Cruisin' on Main" Car Show is a smoke and vapor-free event. The event will be held rain or shine. •