Ahead of Montana Theatre Works' seasonal presentation of Charles Dickens' A Christmas Carol next month, Downtown Bozeman's Ellen Theatre will host the return of long-adored modern folk duo Storyhill. The project featuring the musical stylings of Chris Cunningham and John Hermanson will perform on Friday, November 25th.
They will be joined by native Bozemanites Heidi Hermanson Nagel and Jenny Hermanson on cello and violin. The show will feature a complete run-through of their latest album, Bethlehem, as well as a full set of Storyhill hits and fan favorites. The music begins at 7:30pm.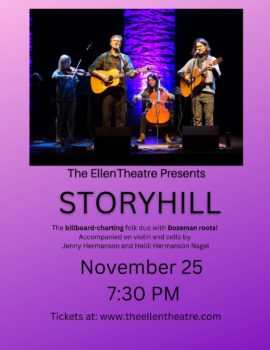 Storyhill is known for its infectious melodies, smart story songs and heartbreaking harmonies strung together in one perfect package. Their beautiful music and passionate performances have won them much critical acclaim and devoted fans ("Hill Heads") all over the country. Cunningham and Hermanson breathe and play as one unit, showing why Billboard and the Austin Chronicle have likened them to the great songwriting duos of our time – Simon & Garfunkel, the Indigo Girls, The Everly Brothers and The Jayhawks' Gary Louris & Mark Olson. They've been favorites on national radio shows like "Mountain Stage" and "A Prairie Home Companion." All seats are $29.50.
Coming soon to the Ellen: the holiday arrival of Charles Dickens' A Christmas Carol, performances of Into the Woods with Intermountain Opera Bozeman, and the return of International Guitar Night. Stay tuned for details.
Wine, beer and concessions will be sold in the lobby one hour before each event. Ticketing and further information about these and other upcoming happenings is available at www.theellentheatre.org. For additional inquiries, call the box office at (406) 585-5885. •