Kyle Suta teams up with Colombo's Pizza & Pasta to create community-oriented lounge for all ages
Bozeman's newest beer and wine lounge – The Break Room – is now open on West College, just off the northwest corner of the Montana State University campus.
"The Break Room gives our customers a comfortable space to socialize, study, or just take a break and relax on the patio," says Kyle Suta, Bozeman native and general manager.
A casual, friendly atmosphere surrounds a fine selection of Montana craft beers, draught wines and hand-crafted sodas. Their old-fashioned soda fountain is a centerpiece of the bar, providing customers with a glimpse of classic Americana and a robust selection of alcohol-free drinks.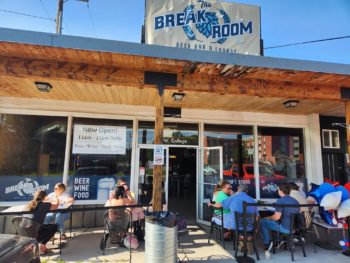 On the menu are several comfort food items, including Wind's Pasties of Anaconda that are baked in the pizza oven at Colombo's and served with a gravy made from Guinness beer. Other menu items are also inspired by and cooked with beer, including a chili made with Mexican lager, and a nacho cheese sauce made with wheat beer.
The walls of The Break Room are adorned with fun, colorful and mind-bending murals by Florida-based artist Daniel Barojas (@r5imaging).
The new addition is brought to the community by Colombo's Pizza & Pasta. Break Room patrons have direct access to Colombo's game room, Joe's Fun Zone, which includes classic arcade games such as Skee-Ball and pinball.
"Colombo's is a Bozeman institution," says Suta. "My family and I have been loyal customers since they opened in the mid-80s, and I couldn't be happier about partnering with them to expand Bozeman's social offerings."
Both The Break Room and Colombo's Pizza & Pasta occupy space in historic Westgate Village. Built in 1957, it is the oldest multi-unit shopping center in the Gallatin Valley, and has recently been determined eligible for the National Register of Historic Places by the Montana Historical Society. The Bozeman City Commission has also recently passed a resolution recognizing the historic significance of the shopping center. The Break Room occupies the space previously used by Gallatin Drug (1957-1974), Bridger Mountain Sports (1976-1984) and the Community Food Coop (1984-1992), among others.
Located at 10011 West College, The Break Room is open from 11am to 11pm daily. Visit www.thebreakroombzn.com to learn more and follow on social media for live music and other announcements. •