Bozeman Symphony returns to Concert Hall with in-person & virtual viewing options
Join Music Director Norman Huynh and your Bozeman Symphony for the first concert of the 2021/22 season, Tchaikovsky Symphony No. 4, featuring the world premiere of The Last Best Place, by Composer-in-Residence Scott Lee. The concert features internationally acclaimed cellist Julian Schwarz, whose powerful tone, effortless virtuosity, and extraordinarily large color palette will be on display as he joins the orchestra for Samuel Barber's Concerto for Cello. The forces of fate are powerfully portrayed as we end the performance with Tchaikovsky's Symphony No. 4 portraying sweeping melodies, lush Romanticism, and a rousing finale.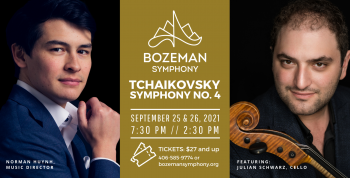 Performances will be held in-person on Saturday, September 25th at 7:30 PM and Sunday, September 26th at 2:30 PM, at the Willson Auditorium (404 West Main Street), Downtown Bozeman. The Saturday, September 25th performance of Tchaikovsky Symphony No. 4 will be livestreamed on the Bozeman Symphony's website, YouTube, and Facebook page starting at 7:30 PM. Preconcert talks with Music Director Norman Huynh will take place beginning at 6:30 pm Saturday, 1:30 pm Sunday at the Willson Auditorium and are available to attend with the purchase of your concert ticket. These performances would not be possible without strong community support and sponsorship. The Symphony wishes to thank David Ross and Risi for their season sponsorship, Donald B. Gimbel and Robert & Donna Ritchie for their supporting sponsorship, and Victoria York for generously sponsoring the livestreaming of the Saturday evening performance.
Ticketing/Season Subscriptions: purchase a season subscription today and save up to 35%. Individual tickets are available for purchase online at bozemansymphony.org or by phone at 406-585-9774.  Tickets at the door based on availability. Adult tickets range from $27.00-$67.00.  Student discounts are available. Please contact the Bozeman Symphony at 406-585-9774 or info@bozemansymphony.org with questions you have regarding performance, ticket sales, venue, seating information, and COVID-19 safety protocols. •