On Friday, December 9th, the Bozeman Folklore Society will present an evening of authentic country music (and yodels) with Wylie & the Wild West. The show will be held at Pilgrim Church at 7:30pm.
Wylie Gustafson is a native Montanan singer/songwriter with 22 albums and three decades of performing, writing and recording under his belt. He is one of the few authentic voices of the American West who steadfastly celebrates and sings about the active rural culture of America. As on critic called him, "…the coolest cowpoke around. Forget everything you hate about modern Country, this guy is old school cool without being a tired period piece."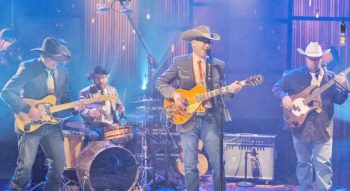 Doors will open at 7pm, with the all-ages show to follow. Advance tickets are $20 and available at www.eventbrite.com. Any remaining tickets will be available at the door for $25. Kids 12 and under admitted free! Pilgrim Church is located at 2118 S 3rd Ave.
Bozeman Folklore Society is an all-volunteer nonprofit organization dedicated to promoting, preserving, enjoying, and sharing the music, dance, arts, crafts, and skills of traditional cultures. There's always a need for volunteers! For further event details or to pledge your support visit www.bozemanfolklore.org. Find a current list of all upcoming BFS concert and dance information through the host website. •