The 2022 Montana Pitmaster Classic is fast approaching, set for Friday and Saturday, August 26th and 27th at Bozeman's Kenyon Noble Lumber & Hardware. The official State BBQ Championship returns with all the usual features event-goers have come to expect, but with some extra seasoning this time around.
Promoters for this year's event have announced the competition will serve as the backdrop for a new reality tv series filming its pilot episode throughout the weekend. "BBQ Heroes" will illuminate the work of local small town heroes while competing at some of the nation's greatest barbeque competitions. The show begins its journey right here in Bozeman, highlighting a pair of contestants whose altruism has had a notable impact in the Gallatin Valley.
The program will showcase charities and those who tirelessly further their causes in the fields of public works, nursing, social work and everyday heroes, spotlighting their stories on a national stage. Witness their passion and cheer as they compete, drawing inspiration by their missions. BBQ Heroes is a show that gives back and celebrates the amazing organizations they represent. It's about family, community, and the love and passion for BBQ.
BBQ Heroes began with a dream of finding local heroes across the country – meeting them, telling their stories, seeing their influence first hand, and giving something back. The show celebrates their stories of hope, pain and determination, profiling the inspiring work being done by those that give so much without asking anything in return. BBQ Heroes is proud to be the first charity-based reality cooking competition show that combines the edge of competition BBQ cooking with incredible Heroes from across the United States.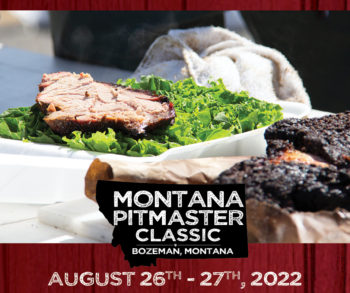 Pitmaster weekend kicks off with a Bozeman BBQ & Blues Night on Friday from 5–8pm. The evening will feature a variety of competing teams serving specialty foods with the live blues of Andre Floyd setting the mood for this great family gathering. Attendees will sample the goods straight from the Pitmasters' grills – all for a great cause! A large portion of proceeds will directly benefit the Gallatin Valley YMCA.
Andre Floyd is Montana's original blues artist with a number of original recordings to his credit, including Project 2o12 and Lapis. He has toured his brand of rockin' blues around the world, working with the likes of Taj Mahal, Edgar Winter, Corky Siegel (of the legendary Siegel – Schwall blues band), and many more. Floyd is a cultural minister of the arts in Western Montana and regularly tours with his band Mood Iguana, both regionally and nationally.
Then, join in for the BBQ Pro Day on Saturday from 1–4pm to check out the biggest names in barbecue. Professional grillmasters from Weber, Traeger and Big Green Egg will be on hand to showcase their grills, reveal new products, give live demonstrations, host educational classes, and teach innovative ways to produce great barbecue with ease. This year will also feature a special appearance by World Champion Pitmaster Doug Scheiding of Traeger Pro and Rocket Scientist. He will be sharing his tips and tricks for top-notch, wood-fried BBQ. After the competition, sample what the teams turned in and see what real competition barbecue tastes like. Stick around until 4:30pm to see who will be crowned this year's Montana Pitmaster Champion! This all-ages afternoon is free of admission and open to the public. Food available for sale and sample.
The Montana Pitmaster Classic is a community event sanctioned by the Kansas City BBQ Society. Governor Bullock officially endorsed the event as the official State BBQ Championship in 2017. Professional and amateur contestants from the Northwest and Canada will compete for the Montana State Championship of BBQ in the categories of chicken, ribs, pork and brisket. The overall highest scorer in all categories will become the Grand Master of the tournament and state champion, granting eligibility in the Kansas City Royal. The Montana Pitmaster Classic is a two-day nonprofit event created to increase awareness of the competitive world of barbecue.
Kenyon Noble Lumber & Hardware is located at 1243 W Oak St. in Bozeman. Learn more about the weekend of events by visiting www.montanapitmaster.com. •