The intimate space at Live from the Divide will soon host a local production of Adam Rapp's mysterious and deeply moving new play, The Sound Inside. It will star Bozeman productionist Cara Wilder and Montana native Corey Renfree in six presentations opening September 30th. The two-character, 90-minute play features elements of mystery and intrigue.
When Bella Baird, an isolated creative writing professor at Yale, begins to mentor a brilliant but enigmatic student, Christopher, the two form an unexpectedly intense bond. As their lives and the stories they tell about themselves become intertwined in unpredictable ways, Bella makes a surprising request of Christopher. Brimming with suspense, Rapp's riveting play explores the limits of what one person can ask of another. The Sound Inside enjoyed a Broadway run in 2019 and was nominated for several Tony Awards, including "Best Play."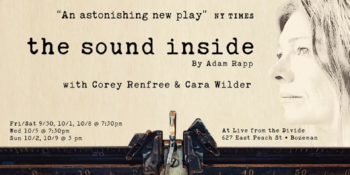 Wilder most recently directed and produced Angels in America, Part 1, Millennium Approaches at the Emerson. She was last seen onstage in last fall's The Approach, and in 2019's A Doll's House, Part 2, both at the Story Mansion. Renfree is a film, television and theater actor currently residing in Los Angeles. His last stage appearance in Bozeman was in 2017's Spring Awakening at MSU's Black Box Theater, directed by Wilder.
The Sound Inside will open on Friday, Sept. 30th, with additional performances on Saturdays, October 1st and 8th, a midweek show on Wednesday, Oct. 5th, as well as two Sunday matinees on Oct. 2nd and 9th. Night shows begin at 7:30pm, and 3pm each Sunday.
General admission is $20 plus service fees. Recommended for ages 16+. Content advisory: This production includes discussions of self-harm. Find advanced tickets at www.eventbrite.com. Seating is limited. •