Wheatgrass readings reveal Montana-based stories of family
Wheatgrass Books will host author John Maclean for a reading and book signing on September 14th. The event begins at 7pm and will feature his new release, Home Waters: A Chronicle of Family and a River.
Limited edition prints of engravings by artist Wesley Bates, who provided some of the artwork for the book, will be on exhibit and available for purchase.
In this poignant and elegantly crafted memoir, John – son of A River Runs Through It author Norman Maclean – explores his family's bond across four generations to the place that inspired his father's cherished American classic.
A longtime reporter and author of books about the American West, Maclean spins a profoundly personal yet universal tale that encompasses fathers and sons, the lore of flyfishing, and the preciousness of the natural world. Along the way, he deepens our appreciation of his father's achievement, and reveals in full for the first time the true details about the tragic death of his Uncle Paul Maclean, played in the film adaptation of A River Runs Through It by Brad Pitt.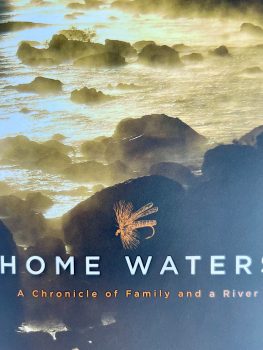 A second event will feature author Caroline Patterson on Sept. 21st. Reading from her new book The Stone Sister, the evening begins at 7pm.
Spanning the mid to late 20th century and set in the Elkhorn Valley of Southwestern Montana, The Stone Sister is told from three points of view – a father's, a nurse's and a sister's. Together they tell the unforgettable story of a child's birth, disappearance, and finally discovery in a home for "backward children." Robert Carter, a newly married man just back from World War II, struggles with his and his wife's decision to entrust the care of their disabled child to an institution and "move on" with family life. Louise Gustafson, a Midwestern nurse who starts over with a new life in the West, finds herself caring for a child everyone else has abandoned. And Elizabeth Carter, a young journalist, uncovers the family secret of her lost sister as she struggles with starting a family of her own.
The Stone Sister explores the power of family secrets and society's evolving definitions of "normal" – as it pertains to family, medicine, and social structure. The novel sheds light on the beginnings of the disability justice movement as it follows one family's journey to reckon with a painful past. Incredibly, the novel is based on Patterson's personal story. As an adult, she discovered she had an older sister with Down syndrome who had been written out of her family history. In fact, that sister's name was also Caroline Patterson.
Wheatgrass Books is located at 120 N Main in Livingston. Visit www.wheatgrassbooks.com for additional information and calendar of upcoming events. •