Montana Shakespeare in the Parks announces winter performances
From MSU News Service
Montana Shakespeare in the Parks will feature a production of The Complete Works of William Shakespeare (Abridged) (Revised) for its winter performance set at Montana State University's Black Box Theatre in January.
From plays to sonnets, the production shares Shakespeare's best, according to MSIP. The fast-firing comedy attempts to prove that three actors can act through Shakespeare's entire canon of 37 plays in 90 minutes. The winter show launches the start of Montana Shakespeare in the Parks' 50th season, an anniversary the program will celebrate all year long.
MSIP is an outreach program of the MSU College of Arts and Architecture.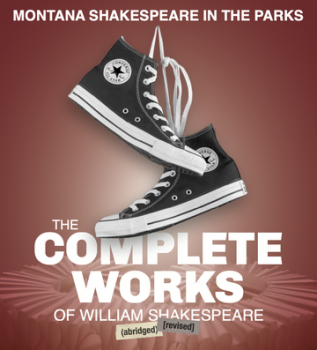 "The 2021 season of MSIP was very exciting for us. We were thrilled to be once again performing in person for the communities we treasure so much," said Kevin Asselin, executive artistic director of MSIP. "Now that our 50th year is upon us, we couldn't be more eager to announce our winter show with an energy-packed production that speaks to the spiritedness of Shakespeare and to the passion we have going into 2022."
Performances will be held in the Black Box Theatre, located in the Visual Communications Building at 11th and Grant on MSU's campus. Show dates are January 20th–30th. Thursday, Friday and Saturday performances begin at 7:30pm, with a 2:30pm matinee to follow on both Sundays. General admission tickets are $25 and reserved seats are $35. To purchase tickets, visit
events.eventgroove.com.
To learn more about the upcoming Montana Shakespeare in the Parks season, please visit www.shakespeareintheparks.org. •