** This event has been postponed from its original date of March 31, 2020. Upcoming concert dates will be updated when announced**
by Reilly McNaught
At the end of March, the Filling Station welcomes the Michigan Rattlers, a "heavy hearted folk rock band with an aching dose of Midwestern nice." The band cofounders Adam Reed (bassist) and Graham Young (guitarist) hail from a small Michigan town in the northern part of the state. Since the band's founding in 2016, they have grown to a four-piece, welcoming Christian Wilder on piano and Tony Audia on drums. They begin to wrap-up their Spring 2020 Tour with a stop here in Bozeman as well as in Billings.
The tour coincides with their most recent single "Desert Heat" released earlier this year, highlighting their newer electric-sound and positive up-beat vibes. On tour, the band has been showcasing their debut full-length album Evergreen (2018), an acoustic album blending folk-rock with old time rock, as well as some classics from their earlier days and self-titled EP.
With anticipation and excitement for their upcoming Montana shows, the Rolling Zone had the opportunity to speak with frontman and co-founder of the band Graham Young about new music and the tour so far.
Rolling Zone: Your spring tour continues with a couple shows in Montana at the end of March. Can you preview the shows for some of the local audiences? What are we in for?
Graham Young: Well now we are 4-piece rock and roll band. You know, we like to put on a fun show and get some good tunes in there.
RZ: Were excited for it. So your single "Desert heat." It dropped during the tour (and sounds great with the saxophone). What was the inspiration for that song?
GY: It was fun to write. The whole idea is that it's easy to get caught in the day-to-day nonsense of life, but once in a while you're with somebody, and you have a spiritual experience, and you hear a song that you kind of listen to and lets you see more clearly where you are, what you're doing, and how you relate to everything around you.
RZ: Was the "desert heat" inspired by a specific place? Or is it more the feeling of warmth and desert?
GY: Yeah you know I think just the idea of being in the desert. I grew up in Michigan, and then I live in Los Angeles now. I will never forget the first time going out to the desert, out to Joshua Tree and it was the weirdest thing ever. Like I had never [felt] just how vast and how small it makes you feel, and just seeing that it goes on forever. I have never seen more ground in my life. The desert is just kind of, I find it interesting.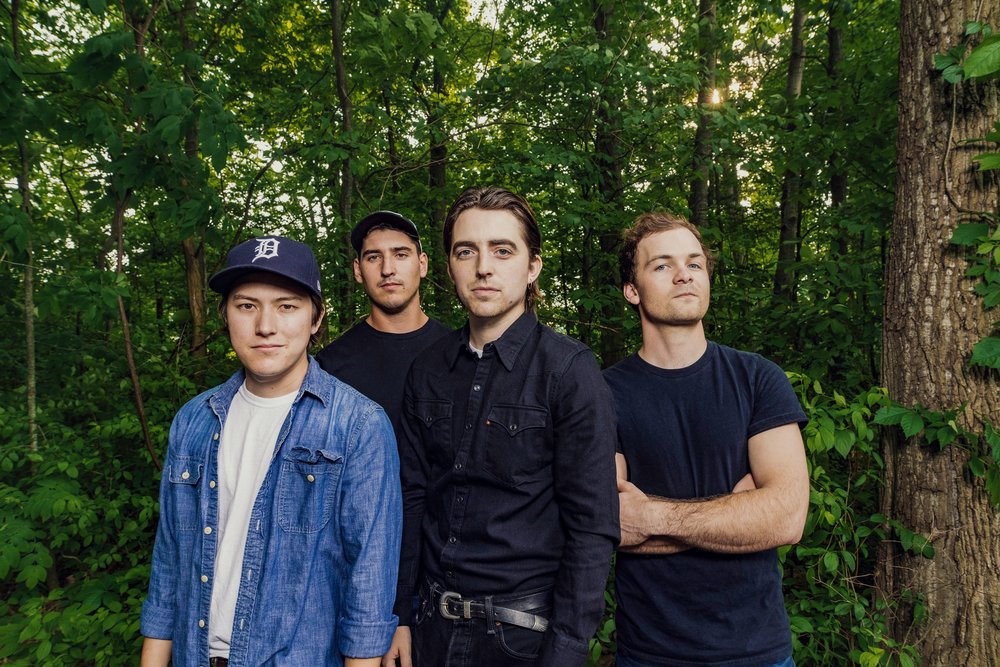 RZ: So, hopefully new music is coming out. Do you think we can expect further evolution on the new set of tunes? I know from Illinois Sky to Evergreen there is some evolution from rock-and-roll to more folk-sounding music.
GY: Yeah, this new record has a lot more electric sounds on it. I think overall, you know it's just more harder rocking. Less acoustic than Evergreen. It's still similar in how songs are written, but turning the amps up a little on this one.
RZ: Can I ask the status on the album? Do you know any dates?
GY: Yeah, you know I don't have any dates, it's still being mixed and mastered so we're still fine-tuning [the album].
RZ: So with a 4-piece band now, lyrically speaking do you write independently then present to other members? Is it one person writing? Is it ever collective?
GY: I write all the songs. It starts with me and the guitar, and I write the song. I then bring it to the guys, and they all add their parts and then collectively work on the arrangements. Yeah, that's kind of how it's always gone.
RZ: Are there a couple standout artists from who you draw inspiration? And hope to at least mildly emulate? I'm sure there's tons of them.
GY: Yeah, I mean anybody that has written a good song and we're all big [Warren] Zevon fans, Acadia, and Tom Petty. All the guys that had a sense of time and place and community within their songs and band. They're all big influences on us.
RZ: Montana is towards the end of your tour, what are your summer plans? Which festivals should we be looking for you at?
GY: I know we will be at some smaller festivals in Michigan. We're not totally sure, but usually in the summer time we spend it around the Midwest because that's the best time to be there.
The Michigan Rattlers will be headlining the Filling Station on March 31st alongside Ferris & Sylvester. Doors open at 7pm with music starting at 8pm for the all ages show. The general admission ticket goes for $13.50 in store at Cactus Records, or they can be purchased online through michiganrattlers.com.
Billings hosts the Michigan Rattlers with Ferris & Sylvester the following evening, April 1st, at the Pub Station. Tickets available at thepubstation.com/events where you can also learn more information about that show.
Learn more about the Michigan Rattlers on the band website. Find them on social media for more updates on upcoming shows and new music: Facebook, Instagram and Twitter. Their new single "Desert Heat" is available now on Spotify and Apple Music. •