Grab a seat for an intimate musical experience with Live from the Divide, a local venue whose space allows audiences to be a part of the performance with a regular lineup of national acts and regional favorites.
Special event "An Evening with Artist & Songwriter Audrey Hall – The Delicate & Fierce Art of Reinvention" is set for January 14th at 8pm. Advance tickets are $35.
The internationally exhibited and collected artist, photographer and songwriter will open the door to reveal her own process, fears, vulnerabilities and strategies to move forward in a creative pursuit. She'll share how she navigates in a world of "specialization," applying a fluid and flexible approach to her thirty-plus years in the arts. And she'll share deeply personal songs, how she summoned the courage to play them in public, record them for anyone to hear, as a novice, one that picked up a guitar for the first time a handful of years ago. This very special evening is anchored around how and why creative expansion at any age is a vital element to experiencing the best parts of yourself you've kept hidden from the world.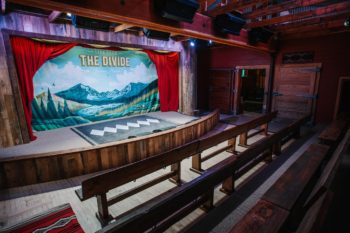 Willis Alan Ramsey follows with back-to-back performances on Jan. 20th and 21st featuring special guest Robert Cline, Jr. Both begin at 8pm with advance tickets available for $65.
The singer/songwriter is a legend among fans of Americana and progressive Texas country, known for blending folk, country and pop with witty, introspective lyrics. After recording a critically acclaimed, self-titled debut album for Leon Russell's Shelter label in 1972, Ramsey all but left the music business citing label conflicts and distaste for the industry. Numerous artists have covered his contributions in the years since, including Captain & Tennille, Waylon Jennings, Jimmy Buffett and Shawn Colvin. Ramsey has popped up in a musical capacity over the last few decades, including a performance on Austin City Limits where he showcased a batch of new songs.
Later this month, virtuosic singer/songwriter and instrumentalist Chuck Cannon performs Jan. 27th at 8pm. Advance tickets are $35.
The South Carolina native draws inspiration from the genres of R&B, rock n' roll and gospel, all major influences during the musician's formative years. He's released two albums to critical acclaim – God Shaped Hole and Love & Money – and has been covered by popular artists around the world. His performances are known for their comedic flair and attention to instrumental detail, lyricism and vocals.
Tickets are sold at the door, but these small shows are known to sell out quickly! Advance tickets are available at www.livefromthedivide.com where you can also find a complete list of upcoming shows. The Live studio is located at 627 E Peach St. in Bozeman. •