Two Tracks' Cheers to Solitude boasts masterful songwriting, stellar musicianship
by Skip Anderson
Folk-leaning Americana band The Two Tracks – comprised of Julie Szewc (vocalist, guitarist), Dave Huebner (vocalist, multi-instrumentalist), Taylor Phillips (bass) and Fernando Serna (drums/percussions) – has played in southwest Montana with enough frequency in recent years, fans from these parts would be forgiven for assuming they're from Bozeman. However, it's based in Sheridan, Wyoming, which is about half the size of Bozeman. Szewc (pronounced "chefs") and Huebner, the band's co-leaders, split songwriting duties as well as lead vocals.
The band headed to Nashville to record its third album, Cheers to Solitude, to work once again with one of Music City's finest producers, Will Kimbrough (Rosanne Cash, Rodney Crowell, Todd Snider). The result is a brilliant, 10-song quasi-country album that unapologetically explores meaningful themes that mainstream Nashville eschewed long ago. The record had a strong debut in July, landing on the Americana Music Association's Album Chart at No. 65, and its single "Beautiful" was the No. 1 most-added song to radio for the genre the same week. The Two Tracks' Cheers to Solitude warrants serious consideration for "best of 2020" critics' lists.
Dropping an album during a pandemic that has generally halted in-person performances is suboptimal, to say the least. How have the virtual performances gone?
Dave: People these days are enjoying more content online, but it's very different than an in-person live performance. As a performer, it's hard when there's no clapping at the end of the songs; it feels a little awkward. But it does satisfy the need for performing. And we will be doing more of that as the drop date draws near.
Julie: I feel like there was a learning curve when we started virtual shows. We've done some live ones and some prerecorded ones. Figuring out the best way to bring this music to the virtual world is challenging. We enjoy it more now that we're more comfortable with the technology. We don't imagine we'll have much in the way of shows for 2020. So, we're figuring out how to release an album during a pandemic year.
Were you concerned about filling Cheers to Solitude with songs that explore heavy themes such as leaving the burdens of the past in the past, growing older, and life after death?
Julie: (Laughs) You've done your homework.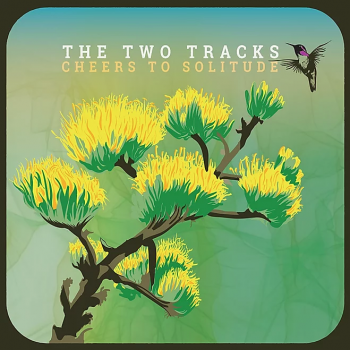 Dave: As songwriters, we strive to put forth songs that we care the most about as a band. We can tell what resonates with us and with live audiences. So we started to settle on the list of songs for the album. We looked at how those songs interact with each other on the record. We also focus on the sound of each song and how they relate to one another. I just love all the songs we included.
Julie: When you first start out songwriting, you might be a little nervous to bare your soul. But I feel I'm way past that point in my creative expression (laughs). I feel like the most vulnerable of our songs resonate the most with our audience, and I appreciate that our audience can relate to those. But we like to write fun, silly, and high-energy songs, too.
The lyrics not withstanding, the record is an easy listen. Fun even. How did you manage to strike that balance between meaty themes and an easy listen?
Julie: A lot of time goes into choosing the right song for the right record. It involves spreadsheets of beats per minute, styles, etc. We can geek out of this stuff. We spend a lot of time trying to get to the point where it feels like it flows from start to finish and it feels right.
Dave: Julie is really good at arranging songs and we made some changes near the end right before going into the studio that changed how the album feels. That easy listening but deeply profound lyrics is integral to our style.
Julie: Then we have to figure out how to make it work together. One song change was "Past My Prime," which originally was a folky, shuffle-beat song. But we slowed it down and gave a bluesy feel to it. So, we were able to keep it on the album without it being similar to another song. That's an example of something we changed for the album that proved to be a change for the better.
The first single, "Beautiful," just rolls right along while asking whether the afterlife could possibly offer anything more beautiful than the natural splendor of the Pacific Ocean or redwood trees or interpersonal relationships. That's a lot to tackle, and you manage to hang all those big questions on just two chords. How did "Beautiful" come about?
Dave: It was interesting, I was down in Baja [California] camping at my property down there. I had been jamming with a fellow musician and he was playing some really simple fun bluesy folk tunes. And after jamming these simple tunes, which are so easy and fun to play, I started strumming the same old two chords that I might otherwise have tried to make more complicated. But I decided to dive right into it, and the words just came right down from that Baja night sky. The Pacific Ocean was crashing off in the distance. There have been a few other songs that flowed like that. Had I tried to tackle those topics any other way, I'm not sure it would have gotten done.
You recorded Cheers to Solitude in Nashville. It's a record that sounds more like country music proper than anything that's come out of Nashville since pop country took over Music Row. There's a certain irony to that.
Dave: Right. It's true. But we lucked out making a connection with Will Kimbrough. We recorded [the album] Postcard Town there, and in a lot of ways we can take credit for the arrangements. But Will is great at figuring out what to bring to the songs. I think a lot of credit goes to that and the wonderful vibe of the Butcher Shoppe [recording studio].
Julie: We met Will through a mutual friend. So, I've had every album Will has ever recorded, and I was like "like THE Will Kimbrough?" We called him the next week. It was so easy and fun for us, so we wanted to go back there. We felt like he would be able to help us on this endeavor.
Part of that country sound comes from the instrumentation used on the record, including pedal steel guitars, mandolins, banjos, and dobros.
Dave: That's one of the joys of working with Will; he's such an incredible multi-instrumentalist. It's a fun process for us. We can just go into the studio and create.
Julie: [Pedal steel guitar player] Bruce Bouton is incredible. I met him at a songwriter conference in Big Sky put on by [Butte-based singer/songwriter/producer] Dave Goodwin. [Grammy-winning country music songwriter based in Belgrade] Kostas and a bunch of other people from all over the country were there. Bruce said just to call if we ever need help on a record. So we did!
Cheers to Solitude is scheduled to drop Aug. 14? How can fans purchase it?
Dave: The record is long overdue and we feel we can't hold onto it any longer. It will be available directly from our website and all the digital platforms, too. We'll have vinyl by release time.
Julie: And we're going to have a whole new line of merchandise with that album release as well.
I've heard that wedding bells are in the future. Have you set a date?
Julie: We decided to postpone the wedding until 2021 due to COVID, but it's definitely in the future! Dave and I have no family near where we live, so our immediate family would be coming from all over the country and the world, which we wanted to take into consideration.
Dave: We hope by then it will be safer for them to travel. And with COVID getting worse and worse, it's clear that we've made the right call.
For more information, visit www.thetwotracks.com.
Skip Anderson is an award-winning music journalist based in Bozeman, Montana. •