Rock 'n' roll veterans assemble with riff-heavy jam at the Brick
Multi-platinum rock band Tesla leave their base of Northern California this spring, hitting the road with Poison in support of fellow industry veterans Def Leppard and their 2017 North American Tour.
Tesla formed in Sacramento, CA, in 1985 out of the earlier, locally popular group City Kidd. They knew their name didn't fit the sound of their original music. At management's suggestion, the band named itself after the eccentric inventor Nikola Tesla, who pioneered the radio but was given only belated credit for doing so.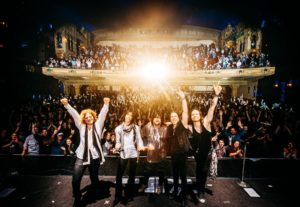 Tesla's music and lyrics stray from the themes popular in heavy metal — particularly in the 1980s at the beginning of their career. A further distinction from their contemporaries, Tesla's blue-collar, T-shirt-and-jeans image also found itself in strong contrast to glam bands of the time who were often characterized by big hair, leather pants, and flashy makeup.
In addition to Def Leppard and Poison, Tesla has previously toured with the likes of David Lee Roth, Alice Cooper, Aerosmith, Styx, and REO Speedwagon, among others. Thanks to a die-hard, loyal following and younger generation of fans, Tesla continues to perform for sold-out crowds around the world.
Tesla is comprised of four of its original members — vocalist Jeff Keith, guitarist Frank Hannon, bassist Brian Wheat, and drummer Troy Luccketta. Fifth member and guitarist Dave Rude has added a fresh energy and creativity since being added to the lineup following Tommy Skeoch's departure in 2006.
In anticipation of their Bozeman performance at the end of the month, The Rolling Zone was able to get Hannon on the phone to talk rock 'n' roll, life on the road, and keeping the legacy going some three decades and counting.
RZ: Hey Frank.
FH: How are you doing?
RZ: Good! Thanks for taking the time to talk with me.
FH: Likewise.
RZ: You're gearing up to hit the road with Def Leppard for their North American tour. Given the pairing, what do you anticipate will unfold on this outing?
FH: Man, it's going to be a lot of great songs and great memories from people. It's kind of a full-circle reunion with both Poison and Def Leppard. We toured with both those bands back in 1986 and '87.
RZ: It's going to be so fun. What do you guys have planned for your portion of the shows?
FH: We have a very short amount of time, so we'll try to play a lot of the crowd-pleasing songs people love — "Love Song," "Modern Day Cowboy," "Signs." And we're going to throw in a few obscurities. We've been really stepping up our production a lot, so we may have some video projections. It's going to be a high-energy rock 'n' roll show.
RZ: Sweet. Over the years, many have commented how even though your recorded material is repeatedly excellent with every release, the greatest way to experience Tesla is live. What is it about being in that moment with you guys?
FH: You know, it's really hard to describe. The thing that happens as a performer — there's an energy that, as a band, we've always been able to conjure up from within and project out to the crowd and have it come back. I've been to a lot of shows where you see great bands and great musicians, but they just don't have that certain something. [It's] an energy, an invisible fire that builds up. For me as a guitar player, even very young I remember getting on stage and playing guitar and feeling that energy as a live performer. It's hard to capture that live in the studio. Van Halen captured it live on their first album, you can feel that fire and that energy. I think that's what caught it live on ours as well ? we played live in the studio on Mechanical Resonance. We don't just stare down at the floor when we're playing and try to play perfectly, we try to build up an energy.
RZ: That's great, you just gotta be there and feel it for yourself.
FH: Yep!
RZ: Tesla commonly falls under the "heavy metal" classification, but has been perhaps better described as a "blues metal" band. How would you describe the sound?
FH: I would describe us as a rock 'n' roll band. We're just rock — we're rock 'n' roll. We got elements of metal, elements of blues, elements of even some country. We've got some folky stuff. We're not really a hair metal band, or a glam band, or even a blues band. We're rock 'n' roll. We're an American rock 'n' roll band.
RZ: We recently spoke with Phil Collen [of Def Leppard] who's producing your next album and who said it might be the best work you've ever done. How has that process been going?
FH: It's been an interesting process. It's definitely different than anything we've ever done. It's been a learning process — and it's been great. Having an outside influence really interjecting and [inviting] some coaching and some positive vibes to the band in the studio, really helping things in a different way. I've learned a lot of different recording techniques from [him].
RZ: You say it's different than anything you've ever done. How would you describe what this new collection is going to look like once it comes to fruition?
FH: It's really been a process of the core development. The songs, the ideas have been developed and orchestrated more so. In the past, we didn't spend as much time as we have with this.
RZ: You and your other band members have side projects to keep you busy in between Tesla ventures. What do you have going on on that front?
FH: I have a lot of different eclectic ideas and things I experiment with. My last solo venture was doing a tribute at the Haight-Ashbury Fair called "Never Slowin' Down" [music video found at www.redhawkrecords.com/frank-hannon/ alongside Frank's solo material]. I'm really interested in doing some blues jamming. I'm producing an album for a guitar hero of mine named Greg Golden, a rock 'n' roller from Reno, NV. But I really don't have a whole lotta time [for side projects] because Tesla is really busy and [that's what] I'm mainly focusing on right now. Between producing Greg Golden's band and doing one-off solo gigs [of] mostly guitar-driven cover stuff, that's about it.
RZ: You can spread your talents around and always come home.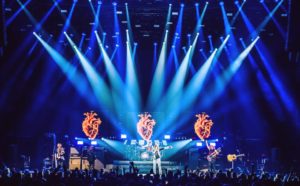 FH: I'm realizing now, the older I get, that time is very valuable and we have to manage it. I've had a habit in the past to not manage it, just going crazy doing everything under the sun being a workaholic. I have quite a few solo albums and efforts to show for it, but I've got to slow down just a little bit and focus on Tesla.
RZ: You've had quite the career with Tesla. Can you share a crazy memory from your time with this group?
FH: One of the best memories I have is opening for Boston, 1987 at the Texxas Jam at the Cotton Bowl in Dallas. That was back in the day when there used to be huge rock festivals in America. Most of these festivals take place in Europe now. We do have Rocklahoma and a few others, but this was a huge festival ? 90,000 people were there. It was with Boston, Aerosmith, Whitesnake. That's a great memory.
RZ: Sure wish I could've been there and to have those memories.
FH: I remember Brad Delp and Tom Scholz from Boston being really nice people. The guys in Aerosmith, Joe Perry has always been super nice to us. Some of the best memories are when you meet your heroes and they're super nice to you.
RZ: Who are some of your personal heroes to this day?
FH: Joe Perry and Steven Tyler from Aerosmith are some heroes of mine, Mick Jagger, Keith Richards, Paul McCartney, Peter Frampton — those are the ones that are living. Jimi Hendrix, Randy Rhoads, Ronnie Van Zant from Lynyrd Skynyrd.
RZ: All masters of their craft. And speaking of masters, Tesla is a band of road warriors, touring exhaustively since the early 80s. Will this continue to be your MO in the future?
FH: I think that music and bands and having a career, even if you're starting out, you have to travel. That's just part of it. You have to be a ramblin', travelin' band. It's so different than when Dickey Betts was singing about being a ramblin' man, or when Robert Johnson was singing about it. You have to travel — and even more so nowadays that there's no record stores and CDs aren't popular anymore. I have friends in young, up-and-coming bands and I tell them the same thing. You've gotta find a way to book yourself in different cities and go and take your music to different people. So yeah…that's the way it has to be.
RZ: Well we can't wait for you to travel our way.
FH: Alright! I love Bozeman, looking forward to being there again.
Catch Frank Hannon in action when Tesla performs alongside tour mates Poison and Def Leppard on Wednesday, May 31st at Brick Breeden Fieldhouse at 7pm. Doors at 6pm. Tickets start at $49.50 and are available now at www.TicketsWest.com and the Fieldhouse box office.
Hang tough — the May 15th issue of The BoZone will feature an interview with the one and only Phil Collen of Def Leppard. •