Lone Star trio fronts annual Django Reinhardt celebration in Livingston
Austin-based Hot Club of Cowtown will join Bozeman's own Montana Manouche for the 5th annual Django Reinhardt Birthday Celebration commemorating his musical legacy. Born in January 1910, Reinhardt, with the help of violinist Stéphane Grappelli, created the genre of music known as Jazz Manouche (or Gypsy Jazz).
The Texan hot jazz and Western swing band blends the traditional Western swing of Bob Wills and Milton Brown with the European hot string jazz of the same era made famous by Reinhardt and Grappelli. The trio – Elana James (violin), Whit Smith (guitar) and Jake Erwin (bass) – sings in three-part harmony, writes its own original songs, and reinterprets everything from hoedowns to American Songbook standards in its own, original style.
Ahead of the January 26th celebration at Livingston's Attic, the Rolling Zone spoke with James about the band's latest release, borrowing from tradition and sculpting their own sound.
Rolling Zone: Hot Club of Cowtown is visiting Southwest Montana to front the Django Reinhardt birthday celebration, an annual concert put on by local gypsy jazz quartet Montana Manouche, who will be opening the show. How did these groups become acquainted?
Elana James: Of course, I am completely obsessed with Montana. It's like my favorite place in the whole world. I was actually living in Bozeman a couple years ago and didn't even intend to play music. I'd just been working, doing some horse wrangling during the summers and then, I think through friends at a jam, I met Nancy (Padilla). She saw us playing at the Butte Folk Festival and we became friends with her. We had some fantastic jam sessions with her and sat in with their band a time or two. She's just remarkable. I had no idea that the music scene in Bozeman was so incredible.
RZ: It should be fun for you to all come back together at the show.
EJ: They'll be playing, we'll be playing and there will be room for dancing too. You can sit and enjoy the show, have a drink or whatever, or you can be dancing at the same time. It should be a nice, full evening of lots and lots of Django Reinhardt/Stéphane Grappelli tunes.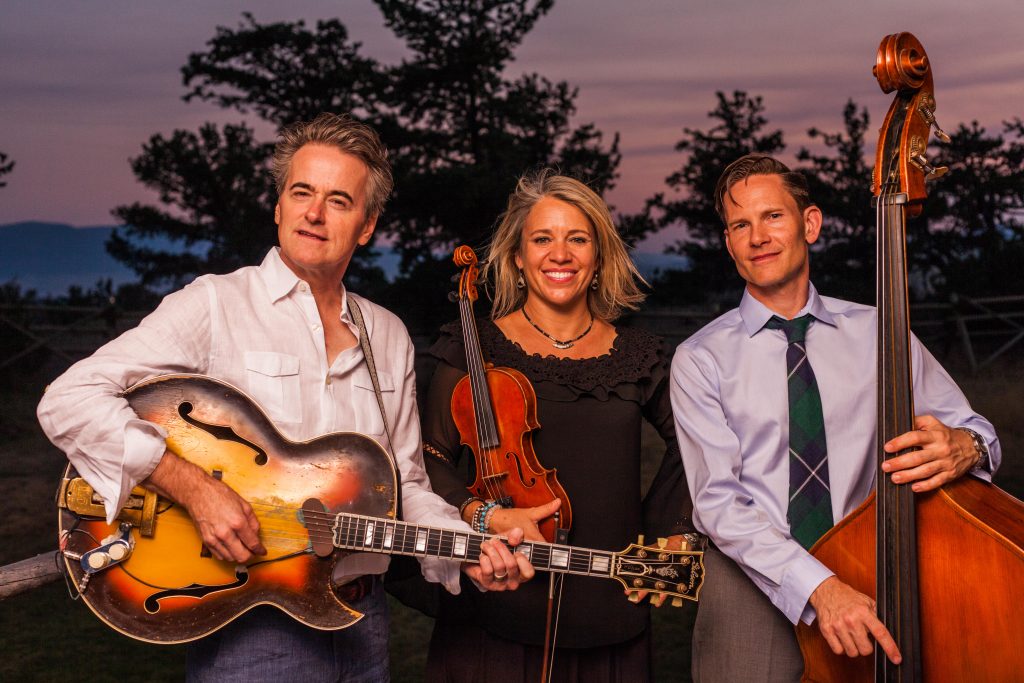 RZ: You're visiting from Austin, so for those unfamiliar, how would you say Hot Club's many recordings and live performances represent the three members?
EJ: We've been together for like 22 years as this trio, we have like 13 albums of varying sorts out over the years. We started out as more of a traditional ensemble that just played standards, fiddle tunes and hoedowns and stuff like that. We still do the American Songbook, hot jazz standards but over the years have written more and more of our own material – we have a new record out in the last couple of months (Wild Kingdom) that's almost completely originals. Whit and I basically write the songs, and all three of us sing in solo. I will say that there's really no band that sounds like we do. It is a specific kind of mashup of our own original material that's directly inspired by the stuff we love, but we can also be a full-on Western swing trio and play jazz festivals or events like these. It's a reflection of the three of us in that we each bring our entire game to the stage. It's not like there's one front person and two side people, it's really a 33.3 percent democracy all across the board. That's why I think it's successful, everybody's got a lot of musical autonomy. Everyone's a great musician and singer in their own right. To have been together this long, it's pretty unprecedented. We're all grateful and proud of that.
RZ: Heavily influenced by traditional styles, Hot Club puts a fresh spin on genres of yore in creation of its own contemporary sound. How do you pay proper tribute to legends like Reinhardt, Bob Wills and Milton Brown and equally appeal to the tastes of today's listeners?
EJ: What those bands had in common was their improvised early jazz style. The soloing style is almost identical, it doesn't really matter which side of the Atlantic you came from. The one core feature that I think anyone needs to have if they're going to play that kind of music is improvisational fluency in the material so that you are inventing and creating every solo, every song that you play, every day. In that sense it's completely contemporary. The only thing that remains the same, sure the core melody. What made those particular ensembles so legendary is the spirit, the sort of joie de vivre of the players, not to mention the virtuosity and elegant soloing style, the energy. You really can't successfully play this kind of music without those features, and that's something we definitely bring to the table in our trio.
RZ: The band's latest full-length, Wild Kingdom, covers a lot of ground, sonically and thematically. What were the overarching goals for this collection?
EJ: It was really just to put out an album of original material because we love so many different styles and songs. The last three albums we've made have essentially been these kind of collections of our own inspirations – we did an all Bob Wills album several years ago, a Django Reinhardt/Stéphane Grappelli album, then one of just cowboy songs and Western swing. Those were more traditional, so it was really kind of time. We hadn't put out a pure originals album in like ten years. We have a lot of ideas, we just tour and perform so much that we don't put a lot of downtime into composing and arranging songs that are completely created by ourselves.
RZ: The cleverly titled "Near Mrs." is a great representation of this band's ability to pair classic strings with modern themes, and is relatively optimistic given the subject matter. It's based on a few too many relationships to recount here, but could you share a little bit of the song's backstory?
EJ: I haven't gotten married and that's totally fine with me, but when you aren't married you wind up becoming involved with different kinds of people over the years. That's just the nature of life. I had been thinking about creating a book where everybody got a single page, just kind of a synopsis of that person or that relationship, very brief. I didn't have the emotional energy to sit down and actually complete it, so when we were putting songs together for this record, I thought to just create a song and reduce it to three minutes. It's like singing the index to what that book would have been.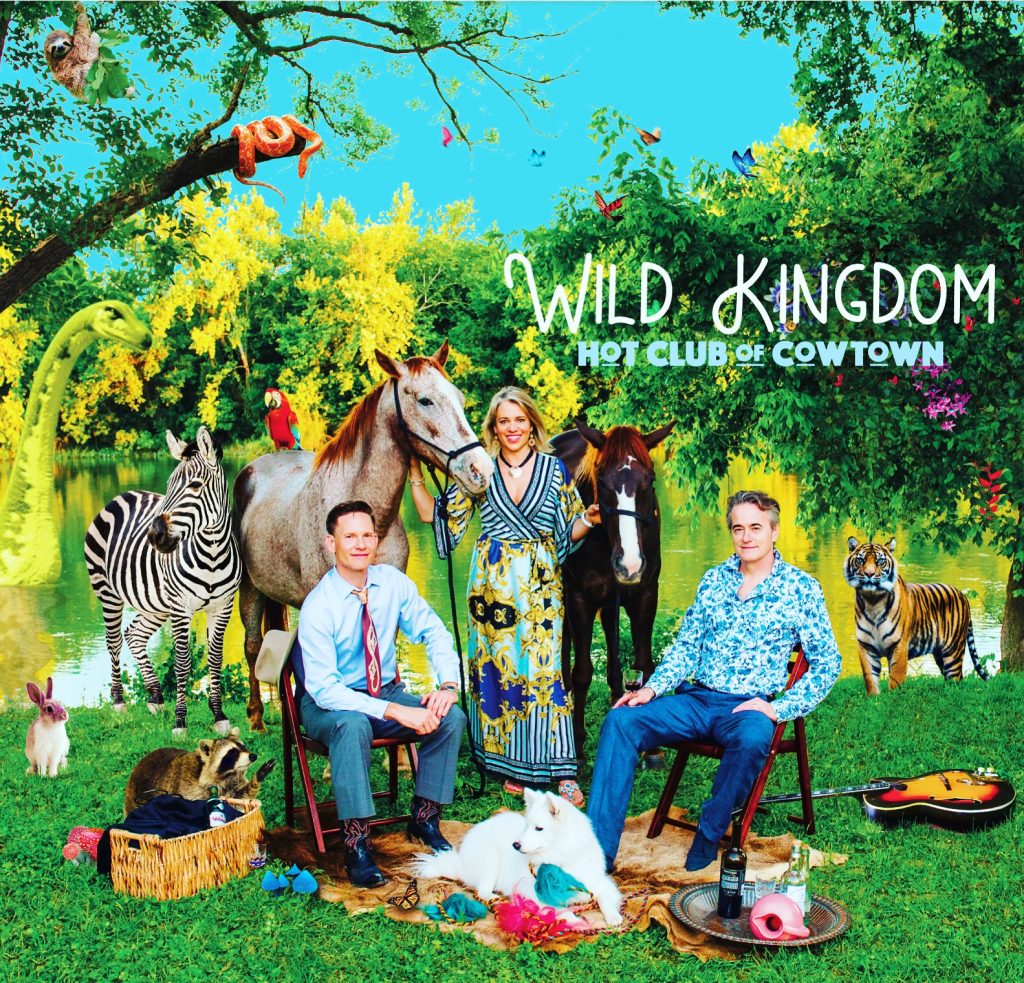 RZ: Clocking about two decades as a trio, you've surely had a chance to get comfortable enough with one another to bust open up the vault and share truths reserved for close friends and family. How does that translate creatively?
EJ: When we first get together, especially when we haven't been hanging out for a while, we'll have a lively conversation. We don't have as animated conversations as a tour goes on necessarily, but I do think the stage show is kind of a manifestation, musically, of the way we interact. Nobody is a nonstop talker in our band, so we're always interested in what each other has to say. Same thing with when we play on stage – each person who takes a solo is saying something the other two of us want to hear. I think that's really important. It's never the same from night to night, so essentially the conversation is carried on stage and continued through music.
RZ: Does that long-term collaboration make it easier to create with one another?
EJ: We were just working on three-part harmonies for these songs we're going to do at the National Cowboy Poetry Gathering in Elko right after we play Livingston. Just arranging three-part harmony vocals or our approach to a song, it's not always the same but there's a certain formula we put our material through, and it comes out sounding like us. And that's much easier to come to when you've been working together for a long time. You know a person's vocal range, you know what they're going to tolerate or say 'absolutely not' to, so you start to be able to use a shorthand for putting material together. There's something nice about that ability to collaborate more intuitively.
RZ: You've also put out some solo material as well. Black Beauty released a few years back.
EJ: I would say those are my guilty pleasures, songs I've always wanted to do on the side that aren't necessarily quite right for the band, or that I feel like producing and arranging in a way that is more my own, maybe folkier or commercial style. I've got two albums out like that. And sometimes I do shows by myself, but usually I just like to do them as our trio.
RZ: Hot Club has nonstop toured all over the country and abroad, steadily releasing new material all the while. Wild Kingdom came only about nine months after the Crossing the Great Divide EP. I have to assume something is at least in the early stages – an album, a batch of songs, what have you.
EJ: We've been doing some themed tours during the performing arts season, usually September through May. The next one we're doing we're about to start in February is a celebration of the 75th anniversary of the end of WWII. We're gathering, I think, some live tracks to put out to kind of represent that show, all songs from 1945. There's so many incredible songs that were charting during that time. The tour is called "The Finest Hour" and we have a lot of dates coming up over the course of this year, so we're just getting going after some time off. It's been wonderful but we're going to get back out on the road.
RZ: You will, unsurprisingly, be touring through much of the winter and spring, including stops in Missoula and Helena before the Livingston show. What does summer look like for Hot Club and its members?
EJ: I've been working in Montana for different outfitters during the summers, either riding, or cooking, or wrangling or whatever, so I personally hope to be back there for part of it. We try to take it a little bit light [because] we play like a hundred shows a year, but especially with the new record out, I'm sure we'll do festivals and have a few summer haunts we usually get to. But I do try to block some time because it's sacred to be out West during that time of year. It's unbelievable.
RZ: So there's no slowing for the trio, you're in it for the haul.
EJ: Knock on wood. It's like any relationship, you hope it will continue and you give it everything you have. It's a living organism. Every show is different, every day is new. You accumulate them over the years, but you hope it will continue to grow and develop.
RZ: Do you have a closing message for those who might attend the Livingston or other two shows?
EJ: They will be very different kinds of shows, which is what's cool about them. The Missoula show on Friday is a happy hour benefit at Imagine Nation Brewing for the Bob Marshall Wilderness Foundation. It'll be an outreach opportunity for that organization to meet people in the community. The Helena show will be our regular Hot Club of Cowtown night at Lewis & Clark Brewery. The Livingston show is going to be special in that it'll be totally pointed in the hot jazz Django and Stéphane Grappelli direction, and I've heard great things about the Attic. Unlike the other two shows, it's going to be a dance-centric night and I know there are so many great swing dancers in that area who I hope will be motivated to come out and enjoy the evening with us. I wish we could also play in Bozeman proper, but we're going to have to come back and try that another time. We love playing in Montana so much. These back to back to back shows are a great excuse to be up there in January.
Hot Club of Cowtown take the stage at Livingston's Attic on Sunday, January 26th. Montana Manouche will kick off the music at 7pm. Advance tickets to this 21+ show are $17 (plus service fees) at www.theatticmontana.com. Doors at 6pm. Dancers welcome and encouraged. The Attic is located at 110 N Main, just above Whiskey Creek Saloon.
Show openers Montana Manouche released Live in 2019, an album of songs recorded at the 2018 Big Sky Gypsy Jazz Festival and last year's birthday celebration show. The four-piece is Ray Padilla (rhythm guitar), Nancy Padilla (violin), Dave Sullivan (jazz guitar) and Mike Carey (jazz bass). Learn more about the group at www.montanamanouche.com.
Hot Club will front additional shows at Missoula's Imagine Nation Brewing on Jan. 24th and Helena's Lewis & Clark Tap Room on Jan. 25th. Ticketing and additional details can be found through the band website.
Learn more about the trio at www.hotclubofcowtown.com or find them on Facebook and Instagram for updated tour details and other announcements. Their latest release, Wild Kingdom, is available now. Stream on Spotify and Apple Music. •