The Downtown Bozeman Association, Sweet Pea Festival and First Security Bank Present the 2021 Christmas Stroll Gingerbread Contest
The Downtown Bozeman Association, Sweet Pea Festival and First Security Bank invite you to register for the 41st annual Christmas Stroll Gingerbread House Contest. Registration for the Gingerbread House Contest is live and can be accessed HERE along with contest rules. Community members of all ages are invited to participate in this festive and FREE Christmas Stroll tradition.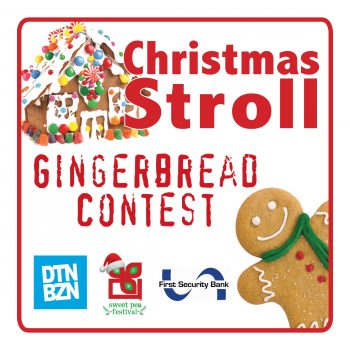 The Gingerbread House Contest registration closes on Friday, November 26th and entries must be delivered on Thursday, December 2nd between 2pm and 6pm to Sweet Pea Festival volunteers on the second floor of American Legion located at 225 E. Main Street in Bozeman (entrance can be found East of main entrance. Elevator access through the American Legion).
Three winners will be chosen from each of the 5 divisions:
*Children: 6 and under
*Children: 7-12
*Teens: 13-17
*Adults: 18 and over
*Professional Baker/Pastry Chef
In addition to the five categories, one "People's Choice" award will be chosen by stroll attendees. "People's Choice" ballots will be available at the door during Christmas Stroll for $1. All donations will go towards the Sweet Pea Festival.
Gingerbread houses will be constructed PRIOR to the event and will be on display at the American Legion's Second Floor Event Space (225 E Main, Second Floor) Friday, December 3rd, 10am-6pm and Saturday, December 4th, 10am-8pm. Winners will receive a ribbon for 1st, 2nd, and 3rd place as well as a prize package including Downtown Dollars, Sweet Pea Festival Day passes, and other great prizes. Winners will be notified by the phone number or email address provided on the registration form. 
Entries must be picked up on Sunday, December 5 between noon and 4pm.
This year's contest is hosted by the Sweet Pea Festival, sponsored by First Security Bank. •