Dance in the grass with Pioneer Park summer music series
A short car ride to West Yellowstone's Pioneer Park guarantees an afternoon of live entertainment and sunshine with a trio of upcoming events – all free and open to the public.
Music in the Park is a treat for visitors, where they can experience the old fashioned pleasure of music flowing across the town during this summer concert series. Bring your blankets, chairs and the whole family to enjoy the live entertainment. Come soak up the sound and take in a beautiful Montana sunset! Here's a look at who's set to perform.
Check out Chris Loid on Friday, August 5th. He's an accomplished singer/songwriter akin to the music of Chris Stapleton, Luke Combs and Travis Tritt. He performs a variety of country music with the likes of Southern rock icons in the genres of Americana, country and blues. Loid's songs reflect the things he loves and more. If you like country music and love fishing in God's country, you'll be able to appreciate what he's about.
Daniel Kosel is set for Saturday, August 6th. His poetry, soulful vocals and guitar work make a delightful listening experience best described as "Crues Music," a self-styled blend of country, rock and blues. He fronts a full band, Madrona Road, known for their energetic performances.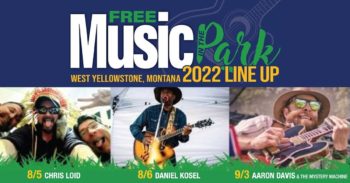 Closing out the series is Aaron Davis & the Mystery Machine on Saturday, September 3rd. The multi-instrumentalist, songwriter and vocalist fronts an eclectic show alongside his band. Davis works the lesser-worn corners of the American musical fabric through an unconventional lens. From "searing slide guitar" (Country Weekly) echoing gritty Southern blues to a patchwork of story folk and acoustic roots, pensive alt-country, and improvisational 70s-influenced rock, Davis released his Catalyst EP with the Mystery Machine showcasing material written during the pandemic.
These live music events are free and open to the public. All shows begin at 7pm. Learn more about these and other events at www.destinationyellowstone.com. Pioneer Park is located at the corner of Highway 20 and Canyon St.
West Yellowstone is the west entrance and gateway community to Yellowstone National Park. Surrounded by three national forests, blue-ribbon trout streams, and beautiful mountain lakes, West Yellowstone features lodging, dining, shopping, and family-friendly activities year-round. •