Broadway talent celebrates Joni Mitchell's Blue with Live performance
Celebrating the lineage and contemporary voice of the American Roots singer/songwriter, the intimate performance space at Live From The Divide offers audiences an experience larger venues cannot.
Secure your tickets for special showcase on Thursday, December 9th. Katie Boeck Sings Blue: A Celebration of the 50th Anniversary of the Legendary Album by Joni Mitchell begins at 8pm. Admission is $60 in advance. Doors at 7pm.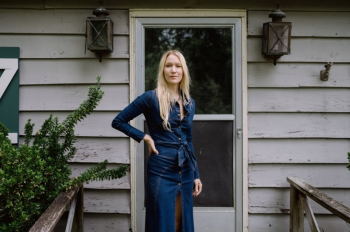 In June of 1971, Joni Mitchell released what would go on to be her most beloved work, the now legendary album. A deeply honest and vulnerable collection of songs, Blue has been the soundtrack to the lives of so many throughout the past 5 decades as they've navigated their own joys and sorrows in the dance between love and freedom.
In celebration of 50 years since its release, Broadway songstress Katie Boeck (voice of Wendla in the Tony-nominated Revival of Spring Awakening, Ave Maria in HBO's The Newsroom), is playing and singing the album from start to finish, offering a chance to hear the songs as performed on the record, honoring their original arrangements while interpreting them through her own musical lens and connecting the themes to her own life.
Both a tribute to a musical hero and an exploration of vulnerability and emotional fragility through interwoven narratives, Boeck captures Joni's soaring range, playful textures, and haunting hues in a way that few can emulate.
Tickets are sold at the door, but these small shows are known to sell out quickly! Advance tickets are available at www.livefromthedivide.com where you can also find a complete list of upcoming shows. The Live studio is located at 627 E Peach St. in Bozeman. •