Big Head Todd, Yonder Mountain & Liquid Stranger among ELM acts
Dig yourself out from the regular snowfall for an evening of music at the ELM. The Bozeman venue continues to bring national acts Southwest Montana this winter season. Here's a look at just a few of the upcoming happenings.
Big Head Todd and the Monsters are back in Montana with an ELM show on Saturday, January 15th. Music starts at 8pm. Advance tickets range $30–$40.
The band has quietly become an American institution following three and a half decades of writing, recording and touring. Fast forward to 2021 and the Colorado quartet – Todd Park Mohr (vocals, guitar, keys, sax, harmonica), Brian Nevin (drums, percussion), Rob Squires (bass, vocals) and Jeremy Lawton (guitar, keys, vocals, steel guitar) – continue to unite audiences. They're on the road yet again for a full-scale US tour this winter. The band has released a steady string of singles over the last few years, including "Fortune Teller," "Neckbreaker" and "A Life of Illusion."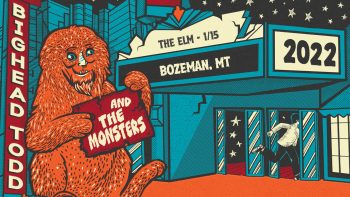 Following on Friday, January 21st is Leftover Salmon with help from the sonically textured Head for the Hills. Music starts at 8pm. Advance tickets are $29.50.
The veteran group continues to shape the Jamgrass landscape where bands schooled in the traditional rules of bluegrass can push songs in new, psychedelic directions. They continue to tour in support of their latest studio effort, Brand New Good Old Days.
An always anticipated performance by Yonder Mountain String Band is set for Saturday, January 22nd. The infectious grooves of fellow Coloradoans Buffalo Commons opens the show at 8pm. Advance tickets range $30–$40.
With its latest album, Get Yourself Outside, the Yonder Mountain quintet once again echoes out into the universe its place as not only a pioneering jam-grass act, but also one of the most innovative, intricate groups in the live music scene. Recorded during the shutdown, the album is a musical odyssey of string instruments and sonic textures. There's the usual foot-stomping melodies and sorrowful ballads that reside at the core of the Yonder Mountain signature tone. But, there's also a deep, honest sense of renewal and rejuvenation running through the heart of the record.
Los Angeles-based production duo Hippie Sabotage perform with opener Daisy Guttridge on Tuesday, January 25th. Music starts at 8pm. Ticketing information available through the venue website.
In 2014, the pair skyrocketed to #1 on Billboard's Next Big Sound chart after releasing their remix of Tove Lo's "Habits (Stay High)" and have since surpassed over 1 Billion Spotify Streams. In 2019, they performed at festivals like Austin City Limits, Made in America, Electric Forest and more. Their sound is rooted in electronic music, but it takes cues from hip-hop, psych rock and chill wave.
Liquid Stranger bring their "B A L A N C E Tour" to Bozeman on Saturday, January 29th. Mersiv, Tvboo, Veil and Canabliss will be on hand for opening support at 8pm. Advance tickets are $25.
Renowned for his metamorphic capabilities and expertly crafted sonic adventures, Liquid Stranger has mastered his ability to slip in and out of genres all while honing his own personal style. He's earned a reputation for taking audiences on a soul-stirring aural journey of genre-bending beats on the dance floor. The man behind the name is able to shift from genre to genre all while maintaining a sense of smoothness and consistency, which in turn makes him one of the most unpredictable artists to date.
Looking to the top of next month, Pinky & the Floyd are live in concert on Saturday, February 5th. The local rockstars take the stage at 8pm. Advance tickets range $20–$30.
Known for their performances of full albums, Pinky and the Floyd have fronted some legendary theatrical productions including "The Wall," "The Division Bell" and "3 Different Ones" featuring Animals, Darkside and Wish You Were Here. With this repertoire, it's obvious the band has explored the material… but Pinky would agree that the biggest challenge has always been performing the material everyone knows and loves. The stuff that everyone hears on the radio… The big hits like "Comfortably Numb," "Run Like Hell," "Time" and "Money." That's the stuff people want to hear, but it's also the stuff that people expect to hear in a certain way. It's engrained in us as Pink Floyd fans, as concert-goers, and lovers of music.
The ELM is located at 506 N 7th in the heart of Bozeman. Peruse current happenings and buy advance tickets at www.logjampresents.com/theELM. Concerts are all-ages. Follow on Facebook and Instagram for the most up to date
event announcements. •