11th Red Ants Pants Music Festival releases '22 lineup
Tickets now on sale for the Montana event of the year

Festival season is upon us! The Red Ants Pants Music Festival has announced its powerhouse 2022 lineup for the 11th annual event set for this summer. Named the "Montana Event of the Year" by the Montana Office of Tourism, Red Ants Pants is widely known for its lasting impact of mission-based work to increase women's leadership, promote rural communities, and support working family farms and ranches through the programming of the Red Ants Pants Foundation. The 11th annual event will take place July 28th–31st on the Jackson Ranch just outside of White Sulphur Springs, Montana.

This year's main stage lineup includes Grammy-nominated singer-songwriter Grace Potter, JJ Grey & Mofro, Corb Lund, Allison Russell, Son Volt, Martin Sexton, Joseph, Sunny Sweeney, John Craigie, Riddy Arman, The Local Honeys, Kris Delmhorst, Sera Cahoone, The Last Revel, Margo Cilker, Counting Coup, The Dirty Shame and Band of Drifters, along with 15 side stage performances!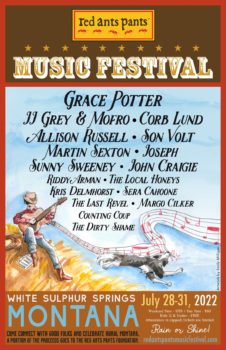 "We're really proud of the diverse lineup we've built, especially the parity we've achieved in terms of featuring such strong female leading artists. From a musical perspective and through the lens of our mission, our 2022 lineup knocks it out of the park," said Sarah Calhoun, founder and producer of the Red Ants Pants Music Festival. "What sets the Red Ants Pants Music Festival apart is our commitment to creating a quality, neighborly experience that truly celebrates genuine rural Montana. On top of the incredible world-class music, our guests enjoy knowing that they are part of a lasting, positive ripple effect through the work of the Red Ants Pants Foundation."

Visit www.redantspantsmusicfestival.com for ticketing details, vendor information and more. Follow on social media for performance announcements on the Main and Side stages.

Event proceeds continue to fund community grants for local nonprofits through the Red Ants Pants Foundation, which works to empower women in agricultural communities. Learn more at www.redantspantsfoundation.org. •