Yes, there's reason to celebrate in 2020: your Best of Bozeman
The beginning of a new decade is meant to be a time of revival, a chance to start anew. Optimism was widespread as the clock counted down on New Year's, teeing up 2020 and all the opportunities it would bring. We got off to a good start: shortcomings of the old calendar were packed away with holiday decorations, spring and summertime vacations were booked, the usual hundred million or so still gathered for the big game, coffee was hot and flannel was worn.
Then March happened. Events were canceled en masse as we confined to our homes and obsessively refreshed news feeds. The future near and distant became one big collective ? with phrases like 'uncertain times' and 'together apart' becoming regular utterances, the value of toilet paper and Lysol exceeding palladium. Without rehashing every detail of that shared experience, the last six months have been undoubtedly difficult. But the Bozeman community made adjustments and forged ahead, making the best of Montana's sunniest, typically crowd-happy months.
The annual Best of Bozeman survey was only one occasion postponed by matters more urgent, but the time has finally come for the constituency to bask in the glow of its official selection. Huge thanks to all who voted way back when – returning to business as usual will be reason enough to celebrate, though a blue ribbon might be just the bonus your favorites need! Here's a deep dive into Bozeman's premier bars, restaurants, service industries, live entertainment venues, small businesses, local destinations and more.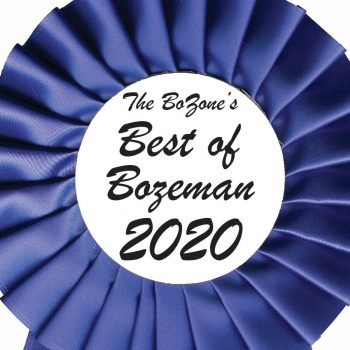 One of the greatest perks of living in Montana is access to its vast outdoor playground, something few of us took for granted this summer when entertainment options were so drastically limited. Biking is a regular activity among locals who can be found at Owenhouse Cycling when they're not on the asphalt or trails. The downtown shop won Best Bike Shop for its spokes and accessories. Their ride-obsessed team will make sure you find the perfect set of wheels.
Though cyclists have ample space to pedal, Hiking is the overall Best Outdoor Activity with Lava Lake taking Best Trail. Hyalite beat out Lava this year for Best Hiking Trail. Be sure to fill your pack with all the necessities from REI, your Best Outdoor Gear Shop and Best Sports Equipment Store. A large portion of the co-op's sales is returned to the community it serves.
A leisurely day on the green is sometimes preferred to strenuous mountainside activities. Bridger Creek is your Best Golf Course for its 18-holes beneath an impeccable view of the namesake mountains. Get your games in and enjoy the fall colors.
In Four Corners, one half of The River's Edge locations stock what fishing people need to cast a line in one of our famous rivers. The other Best Fly Fishing Shop storefront can be found in Downtown Bozeman. Pick your shop and fill the tackle box! Though it may be more popular for fishermen and women, the Gallatin River just lost out on Best River to the Madison River. The slow-moving waterway is the go-to for floaters with a low turnout unheard of when the sun is shining.
It'll be winter before we know it, which should satisfy local snow bunnies. Best Ski Area is the hill for locals, Bridger Bowl. Its recent season was cut short so passholders will be eagerly awaiting the first couple dumpings. Their new RFID technology will make it easier than ever to "Ski the Cold Smoke."
It's not snowing yet! Other outdoor hotspots that can be enjoyed right now include Best City Park Story Mill Community Park, taking first place in its debut year. The massive space features a dog park, amphitheater for live entertainment, adventure playground and plenty of room to roam. Voters, however, awarded Snowfill Recreation Area with Best Place to Take Your Dog. The space is great for our furry friends to get out all that extra energy.
Yellowstone National Park is this year's Best Place to Experience Nature. Whether you're a Montana native or visitor to the Treasure State, a trip down to Old Faithful is always an occasion – but please don't pet the wildlife!
In a year when gatherings were largely put on hold, event promoters got creative. Best Local Event again went to Music on Main. Known to pack a multi-block span downtown, the summer tradition moved ahead with a livestream of its 2020 concerts.
It was a photo finish for Best Festival with Sweet Pea taking the top honor from SLAM, last year's winner, by less than one percent. Though the Sweet Pea Run wasn't able to proceed this summer, the arts fest and runner-up teamed for the "Tour d' Arte" to showcase local artists who would have been featured during both events.
True to form, Pinky & the Floyd jammed their way to Best Local Band. The tribute group put on a couple outdoor shows this season for those lucky enough to score golden tickets.
The Rialto Theater – winner of Best Music Venue and Best Event Venue – has hosted numerous Pinky concerts since reopening its doors. Live entertainment has been one of the hardest hit industries this year. When your favorite acts return to this stage and others, plan to take in a show! (Like you needed a reminder.)
You don't have to be a working musician to entertain. Hit the high notes at Best Karaoke Venue the Eagles Bar on Thursday nights. Terri & Co. from Sunrise Entertainment will bring the binders of songs, you bring the pipes!
Voters circled the wagons and awarded Dave & Ally of XL Country the Gallatin Valley's Best Radio DJs for another year. Their lively morning show makes the prospect of commuting to work a little more bearable. Our friend Michelle Wolfe came in at number two for her 'Moose Mornings' show. As for Best Radio Station, XL Country lassoed the top prize away from last year's winner, KGLT.
It's been a headline-heavy couple months and KBZK-CBS hasn't missed a beat. Montana's News Leader scooped its competitors with back-to-back wins for Best TV Morning and Evening News shows. We've got a busy couple months ahead of us, so find your remote!
Montana artists have some of the best source material around, as well as display rooms to showcase their work. Altitude Gallery claimed Best Art Gallery once again this year. The cozy, contemporary space is located in Downtown Bozeman and features a rotating mix of paints, photography, glass works and more.
Creativity meets elegance with programs by Elizabeth DeFanti's Montana Ballet Company. Bozeman's Best Dance Studio recently hosted the 'Dancing Under the Big Sky' summer intensive and looks forward to welcoming back local audiences during a future performance.
The folks behind 'Damn Yankees,' 'Annie' and 'Oklahoma!' most recently brought to life Charles Dickens classic 'A Christmas Carol' at Best Live Theater Venue the Ellen Theatre. May this extended intermission give our wonderful local performers a chance to polish their monologues ahead of what's sure to be another stage smash! Montana Shakespeare in the Parks again won Best Live Theater Group. The traveling troupe plans to perform 'Cymbeline' and 'A Midsummer Night's Dream' next summer.
Rocky Rex is but one of the attractions that helped Museum of the Rockies claw its way to Best Place for Family Fun and Kids' Activities. Featuring live specimens, their scaly rotating exhibit 'Reptiles: The Beautiful & the Deadly' has piqued the curiosities of children and adults alike. There's still time to check it out – exhibit closes Sept. 13th.
With fall settling in and nights getting cooler, the natural waters of Chico Hot Springs will be a welcome warm-up when the foliage turns yellow and orange. Chico is your Best Overnight / Weekend Getaway and Best Hot "Wada" nearby. Bozeman Hot Springs was a close second for the latter category.
Rejuvenation comes in many forms. Reset with an afternoon at The Loft Spa, the area's Best Day Spa and Place for a Massage. Popular for their array of services for body and mind, the downtown escape recently added acupuncture to their menu. A personal day wouldn't be complete without a new 'do! Theory is the Best Hair Salon in Bozeman for their vibrant, culture-inspired styling. The studio is now located across from the Lark downtown.
Whether staying in shape or embracing a healthier lifestyle, the Ridge Athletic Clubs feature the equipment, classes and morale you're looking for. The Best Gym / Fitness Center has locations in Downtown Bozeman and the west end for busy bodies looking to squeeze in a workout. For a more serene, full-body workout, try Best Yoga Studio Your Yoga. Each of their classes are intimate and unique. The studio is also offering virtual sessions so you can participate from home. Montana Mixed Martial Arts is Bozeman's Best Martial Arts Gym. Those interested in learning the art of Jiu-Jitsu have an open door at the northside club. Glove up!
Sponsors of Best Timed Foot Race 'Run to the Pub' and other local races, Bozeman Running Company has the soles and accessories for every competitive or recreational athlete. That's why they're the Best Running Shoe Store another year… running! Here's hoping virtual contests are a thing of the past come 2021. For now, keep up the conditioning with a run around Best Jogging Trail area Peets Hill / Burke Park. Sourdough Trail clipped heels in second.
And though it won Best Shoe Store, Schnee's Boots & Shoes also deals in outdoor gear and apparel to go with every pair of new kicks. The downtown shop has been a Bozeman mainstay for decades.
Walking everywhere is more of a thing for city folks, save a few hardcores who brave the mountain elements year round. Best Car Dealer Ressler Motors is the place to find an all or 4WD to suit any household. The lot features models by Toyota, Chevrolet and Cadillac, as well as quality pre-owned vehicles. Ressler also won Best Automotive Repair.
If your rig isn't under warranty, make an appointment at A&D Auto Body next time you're in a fender bender. They won Best Autobody Repair. There's a reason A&D takes this prize year after year: their technicians are experienced and efficient, reuniting owners with their vehicles quickly without skimping on quality.
Don't miss out on the Best Oil Change in town at Speedy Lube, just up the road from A&D. Their full-service operation makes sure your car, truck or SUV is running smoothly for daily errands and longer weekend road trips. Look for the roadrunner on 7th!
Another favorite Montana activity is taking it off-road and spinning out some dirt! Summit Motorsports was named Best ATV/Motor Sports Store for its selection of new and used all-terrain models ready to hit the dry earth or snow-covered hills.
Before we continue our shopping excursion, make a withdrawal from First Security Bank. The Gallatin Valley is home to several branches and ATM locations. Voted Best Bank, First Security encourages its staff to get involved with nonprofit organizations throughout the community.
Preserve memories made with The Frugal Frame Shop, just beating Old Main for Best Frame Shop. The west Bozeman store offers custom framing services at competitive rates. Simple mat, canvas stretching and shadowbox treatments are just a few things they offer.
The frames at Advanced Eyecare helped lock in the prize for Best Optical Shop, a new category this year. Their opticians provide comprehensive eye health services and access to a large array of eyewear. Advanced Eyecare serves the Gallatin Valley from offices in Bozeman and Belgrade.
The crowning of Cashman Nursery as Best Garden Shop / Nursery shouldn't come as a surprise to longtime residents. Their varied selection of trees, shrubs, perennials and more has been growing and beautifying backyards since 1898.
A professionally designed arrangement from Labellum, winner of Best Florist, will add a splash of beauty to any foyer or dining room table. The contemporary flower boutique mixes natural elements and rich textures into its work, ensuring each arrangement tells a unique story. Langohr's came in a close second.
And for the greens of another variety, Juniper Cannabis overtook Spark1 for Best Dispensary. The downtown shop assists Montana medical cardholders with the best CBD solutions available, brought in from their rural growing facility. Their menu features a strain for each unique patient.
East Main Ink has opened its shop to body art enthusiasts for almost a decade. Located on the east end of town, Bozeman's Best Tattoo Studio puts out some incredible work. Colorful. Intricate. The artists' years of experience keep bringing people back.
Accessorize with a gorgeous piece from Miller's Jewelry, the Best Place to Buy Jewelry. They specialize in Montana sapphires and diamonds, and recently wrapped their annual estate show. It's always a great opportunity to find pre-owned items from local sellers.
And if you're looking for a lovingly used record by your favorite musician, check the racks at Cactus Records – the "weirdo" Best Record / CD Store in Bozeman. The charming downtown shop is also a great place for quirky gifts, cards for any ole reason, and other souvenirs. Make music of your own with a new set of strings from Music Villa. The reigning champ of Best Musical Instrument Store has a large selection of guitars, gear and other instruments. They also schedule private lessons with experienced instructors.
Set the Kindle aside and curl up with a spine from Country Bookshelf. There's nothing quite like the smell and feel of an actual book, and our Best Bookstore has something for fans of any genre. They also host author events, which will hopefully return in a physical form in the coming months.
For those who still enjoy the thrill of picking out a movie from the shelf, Movie Lovers is Bozeman's pick for Best Video Rental Store. Skim the new releases and classics ahead of your next movie night. They've got tons of titles not found on streaming services and you won't have to deal with any annoying buffering issues.
Nights in are better enjoyed in a well-maintained dwelling – and home improvements are part of having a mortgage! Find the tools and tips necessary of any project at Owenhouse Ace Hardware, repeat winner of Best Hardware Store. The shelves are fully stocked at two locations: downtown and on Bozeman's west side.
UFS (Used Furniture Store) takes care of any necessary refurbishments before sending its customers home with their new, quality used pieces. The furnishing connoisseurs tallied the majority of votes for Best Furniture Store, new and used. Drop in and talk with a staff member about their available styles, eras and price ranges. A knowledgeable and courteous staff is always available to help. They also buy used furniture!
Complete the room with a hidden treasure from Best Antique Store, The Antique Barn. Their Gallatin Gateway showroom has everything from reclaimed furniture and farm finds to rare vintage finds from numerous vendors.
And if you're on the hunt for steals on clothing, trinkets and more, swing into Sacks of Bozeman. The repeat winner for Best Thrift Store also claimed Best Clothing Store this year. The downtown shop is a great supporter of our local Help Center programs and is known for its constantly rotating stock.
Best Craft / Hobby Store again went to Michaels for their niche materials and customer service. Hobby Lobby didn't open in time for this year's survey, but we're guessing it'll give Michaels a run for its money next year.
Best Grocery Store goes to Town & Country Foods once again. The regional supermarket chain recently opened a store in Lewistown, but was voted number one by those polled in Bozeman, Belgrade and Livingston. The stores have pantry and fridge-filling goods for every family or individual, and also offer delicious lunch specials from the deli. T&C also won Best Store to Buy Beer.
Large gatherings may be encouraged against, but cocktail hour only requires one or two. Montana Spirits & Wine is your Best Package Liquor Store and Wine Shop. The proof is in the pudding: Whether you're looking for a nice bottle of red or a fifth of something stronger, the knowledgeable staff is eager to assist. Thirsty patrons are cautioned to browse the bottles at their own risk!
Fire up the Traeger to grill some sirloins from Best Place for Meat, Daniels Gourmet Meats. The artisan market deals in the highest quality, locally sourced beef, pork and poultry fit for any occasion. A.1. encouraged against! Forgot something? Hit Joe's Parkway for those items you forgot to write on the grocery list. Your long-standing Best Convenience Store has all the essentials, odds and ends.
Our four-legged companions aren't to be neglected during an errand day. Dee-O-Gee is the Best Place for Pet Supplies as well as Best Pet Groomer. Peruse its natural products, chew toys and more – and schedule a much-needed puppy bath while you're at it! Locations at 19th & Oak and downtown.
Health to match canine hygiene: Baxter Creek Veterinary Clinic reclaimed Best Veterinary Services from Cottonwood Veterinary Hospital this year. The centrally located vet offers wellness check-ups, vaccinations, dental care, an in-house laboratory, as well as drop-off appointments, acupuncture and surgery.
Expand your family by adopting an animal in need through Best Nonprofit Heart of the Valley. The shelter matches homes for the lost and surrendered pets in Gallatin and Madison Valley, enhancing the lives of people and companion animals through pet adoption and education.
Perhaps you've a significant other to spoil. Heyday continues to be the Best Place for Unique Gifts and Best Place for Gifts for Her. Offering a fresh approach to everyday celebrations, the lifestyle boutique houses an assortment of creatively designed, unique products you won't find anywhere else.
And don't forget the fellas: Best Place for Gifts for Him is Revolvr Menswear. Quality denim, shirting, footwear, and accessories for men abound at this downtown retailer, Bozeman's only true clothing store geared toward men. What's a sleek new outfit without a trim to match? The Barber Shop & Shaving Parlor is the Best Barber Shop because of their awesome staff and shop ambiance. They offer the very best in fine men's haircuts and hot lather shaves.
All dressed up and nowhere to go. Make it a date night and check out Bozeman's Best New Restaurant: Tanglewood. Located off Huffine, the casual dining spot serves steaks, seafood and pizza, also popular for its weekend brunch menu. Look for "The Market" sign and get your name on the list!
Long weeks seem to abound lately, but that's nothing a nice cocktail can't fix. Wildrye once again took Best Distillery thanks to its house-infusions and talented mixologists. Head down to the Cannery District before the sun sets on summer to enjoy the cozy patio. The start of the weekend never felt so good.
Another option for local cocktailers is Plonk downtown. The Montana chic lounge is always in vogue and shakes up some delicious concoctions, hence their win for Best Cocktails. Start your evening here with a glass of fine wine or order something off the food menu. Plonk was also voted Best Bar and Best Place for Girls Night Out.
Hit Copper Whiskey Bar with the boys for Burger and a Beer Night Wednesdays. The Best Place for Guys' Night Out features a wall of whiskey and plenty of flavors on tap. Locations in Downtown Bozeman and Big Sky's Town Center.
Perhaps you're looking for a place to catch the game with a side of beer and apps, especially without the option of watching from the stands. Spectators Bar & Grill isn't fumbling to local competitors for Best Sports Pub. The stadium-adjacent pub will have to wait until spring for home Bobcats games but will continue broadcasting national matches on its many big screens.
Decades-long supporters of MSU and Bobcat Athletics, game day wouldn't quite be the same without a stop into the Rocking R Bar. The downtown hub for college students and local sports fans is the place to continue the tailgate when the scoreboard counts down. The R Bar won three prizes – Best Nightlife, Place to Dance and Place to Meet Singles – in this year's survey. Game on!
After coming up just short for several years running, Stacey's Old Faithful moved into first for Best Authentic Montana Ambiance. The steakhouse and saloon has sat in Gallatin Gateway since the days of Prohibition and sees folks from all walks of life. The long-standing winner of this category, the Western Café, is right behind at number two.
MacKenzie River Pizza is the survey pick for Best Kid-Friendly Restaurant. Order a couple pepperoni pies for the youngins, a specialty round and local brew for the adults. The rollinos and pesto lodgepoles never disappoint. Another favorite pizza hall is Tarantino's Pizzeria, winners of Best Late Night Grub. Soak up some of the night's revelry with a pair of slices or the whole shebang. They're located in the Bozeman Hotel building and open until 3am on weekends.
Montana is quickly becoming a destination for devotees of craft beer. With so many great breweries to pick from, samplers often look for another feature to pair their suds with. Look no further than the atmosphere at MAP Brewing, who poured their way to Best Brewery. The open floor plan gives folks plenty of room to breathe while checking out the Bridgers through a wall of windows. Their al fresco seating is also a major draw, in fact, it's the Best Outdoor Patio. MAP also won Best Tasting Room, Best Local Beer Crafter and Best Local Beer Flavor for its Midas Crush IPA.
Across town sits Bridger Brewing, another choice brewer among residents and visitors alike. They claimed the prizes for Best Pizza and Best Lunch for another year. Grab pizza by the slice during a lunchtime meeting to go along with a round of beers (we won't tell), or stop in for dinner for a full pie and salad to share featuring local greens. We recommend the Chop, Eloté and a pint of Lee Metcalf! Bridger took the silver for Best Brewery, Local Brew Crafter and Tasting Room.
Winners of Best Beer Selection certainly didn't stop there! Montana Ale Works is premier Bozeman with top victories in the categories for Best Restaurant, Casual Dining and Happy Hour. The laid-back freighthouse assembles the fruits of regional growers, brewers and distillers on a single menu. Diners are treated to the fresh tastes of Montana in this vibrant gathering place that bookends Downtown Bozeman. Ale Works also won Best Appetizer, Bar Food, Chef, Dessert and Restaurant Service.
Backcountry Burger Bar has earned its moniker with the repeat win for Best Burger. Their beef is sourced locally, the orders are swift, and the beers ice cold. Sip on one of 18 regional brews while enjoying an appetizer, or bring home supper from this downtown burger joint.
Fink's Delicatessen stacked its way to Best Sandwich in 2020. The northside shop has made a name with its traditional sammies, new classics, specialty cheeses and meats. Their grab-n-go lunches are great for those last minute mountain excursions and the charcuterie platter comes in sizes small to large. The Pickle Barrel came in second.
Bozeman loves its backyard barbecues come summer, but Bar 3 BBQ is here to keep the spirit alive when the lawn chairs go into storage. Order up a family serving of Bozeman's Best BBQ for your next cook-in: traditional chicken, beef brisket, pulled pork and ribs are just a few things on the menu. Bar 3 has locations in Belgrade and Bozeman, the latter currently undergoing renovations.
Though she moonlights as a Bozeman City Commissioner, I-Ho Pomeroy is also a local businesswoman who takes home plaque for Best Korean Food. Her aptly named I-Ho's Korean Grill has long been a town fixture for its zesty dishes. Their traditional kimchi is also available on area store shelves. Whistle Pig Korean came in second.
Best Indian Food once again went to Saffron Table, but the local escape featuring the diverse flavors of South Asia sadly closed its doors following the spring shutdown. We wish the best to Andleeb Dawood and hope to benefit from her future endeavors. Still looking for authentic Indian cuisine? Give runner-up Pakeezah a try.
El Rodeo has proved a to be welcome addition to our foodie community in the last few years. Their genuine tacos and burritos have helped secure Best Mexican Food and Best Food Truck / Cart in 2020, ousting Fiesta Mexicana and Mo'Bowls, this year's second-place finishers, respectively. El Rodeo serves Bozeman from its taco truck outside Dollar Spree and the Gallatin Valley Mall food court.
Best Take-Out goes to a new recipient this year, a favorite food truck-turned-indoor restaurant. Thai Basil activates the senses with its diverse menu and modern dining space. Their dishes are prepared to order and feature traditional curry pastes directly from the Land of Smiles.
Our pals at Dave's Sushi have lots to celebrate by virtue of their gorgeous rolls. The Best Sushi in Gallatin Valley has secured this onetime hole in the wall its bragging rights. Take a seat on the patio, order some sashimi to-go, or bring in that special someone to the Best Place for a First Date. Dave's also won Best Asian Food and Place to Eat Seafood. Montana Fish Company claimed Best Place to Shop for Seafood. We hope they're back to business soon!
Open Range put up a good fight, but Sir Scott's Oasis again took the golden belt buckle for Best Steak. They serve the juiciest, most tender cuts from their Manhattan steakhouse and are always worth the trip. Head out for date night or Sunday dinner and taste for yourselves.
Dessert for dinner, why don't we? Best Ice Cream Shop goes to Sweet Peaks for its mountain made scoops. Treat yourself to an ice cream cone, dish of sorbet or other treat at this choice confectionery. Two thumbs up for ice cream mustaches.
Best Italian Food stays with Blacksmith Italian for another year. You'll find hand-crafted pasta on every of this ristorante, as well as the perfect wine to enjoy with each entrée. Make a reservation for dinner and enjoy a night of great food and conversation. Squisito!
Blackbird Kitchen, the second place finisher for Best Italian, once again took Best Fine Dining thanks to their intimate space and organic, wood-fried fare. If you're in the mood for some southern comfort without breaking the bank, check out Roost Fried Chicken. They're the Best Inexpensive Restaurant in Bozeman.
A few years back, the Roost was featured on Food Network's 'Diners, Drive-Ins & Dives' alongside Storm Castle Café, winners of Best Hangover Food Cure this year. Their farm-fresh plates, friendly service and big ole mimosas might help to ease the pain.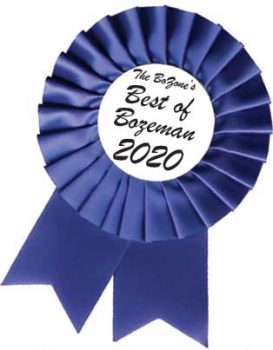 Now that we're on the topic of the most important meal of the day, Best Breakfast is still ordered at Jam! The downtown eatery is the place to go when your party can't decide what they're hungry for. Their savory dishes and specialty mimos, particularly, are a match made in brunch heaven.
But if you're on the go and there's not enough time to sit, grab a box of goodies from Wild Crumb or Granny's Gourmet Donuts. Bozeman's Best Bakery and Best Donuts / Pastries will ensure smiles light up faces when you show up with the goods glazed or garnished. Their various offerings go great with morning meetings and Sunday gatherings. Wild Crumb and Granny's were runners-up in each other's winning category.
It would be pure negligence to forget the coffee. Call in a company order or fuel up before a day of adventure at Treeline Coffee Roasters, Bozeman's Best Coffee. The small batch, artisan roasters source only the most flavorful beans and take pride in every drip served. Treeline has locations on North Wallace and at The Lark.
Rendezvous over espresso and paninis at Wild Joe*s Coffee Spot, this year's winner for Best Coffeehouse. This downtown pillar has long been the meeting place of delicious coffee, bites, live music and the work of local artists. Cold Smoke Coffeehouse came in a tight second.
We've got a draw in 2020! Best Coffee Hut belongs to both Espresso to Go and Bumble Bean Espresso. Each hut pours its morning java from roadside locations in Bozeman, Four Corners and Belgrade. And they say one vote can't make a difference…
'Tis the season of cool evenings and cardigans. Curl up with a hot beverage from Townshend's Bozeman Teahouse, the Best Teahouse in town. They offer a wide selection of leaves, chai and bubble tea, all fine alternatives for those deterred by the bitterness of coffee.
Pack in the nutrients with an all-organic juice or smoothie from the Flying C Café, located upstairs in the newly remodeled Community Food Co-op. It's the Best Juice Bar for its fresh presses and eats to go with. Along with its downtown location, the Co-op also took the top spot for Best Eco-Friendly Products. Their stock of natural items, supplements and wellness products is unmatched.
Okay, that was a journey. Now it's time to complain, even if just a little. We've earned it! The intersection of Max & Catron outside Costco was overwhelmingly decided to be the Best Place for a New Traffic Light. There's got to be some sort of plan in motion. How about a roundabout? Sourdough & Kagy might also benefit, your second place pick.
Voters were also asked What Could Make Bozeman Better and the Best Use of Taxpayers' Money. Their repeated answers? Affordable Housing and Rent Control. It's become increasingly difficult for working class folks to make a good enough living to enjoy Bozeman's public access and many amenities. Developments by nonprofits like HRDC are welcome additions to the area, but we need more. Hopefully we can focus on making that more of a community effort in the coming year, from the top down.
We can't end on a sour note. Your Best THING About Bozeman is a new one: The Great Outdoors. Votes for this year's survey were cast largely before COVID-19 upended our lives, so it may be only a coincidence that our collective favorite thing became our primary means of entertainment this summer. Let us not take for granted this awesome place we live, a place where we can hit the trail in 20 minutes, ski some of the best slopes mountains have to offer, wade in the river in the hope of reeling in a whopper, or just sit in the yard and enjoy the fresh air and biggest skies around. We're lucky when so so many aren't. Let's rave about that – just not too loud. •