Symphony's next program articulates tumultuous love affair
Bozeman Symphony will present the second set of performances in its new season with "Symphonie Fantastique" late this month. On Saturday and Sunday, October 30th and 31st, pianist Rodolfo Leone will join music director Norman Huynh and the Symphony Orchestra in Willson Auditorium. The music begins at 7:30pm and 2:30pm, respectfully.
The performances will feature Weber's Overture to Der Freischütz, Prokofiev's Piano Concerto No. 3 in C Major and the centerpiece Symphonie Fantastique by Berlioz.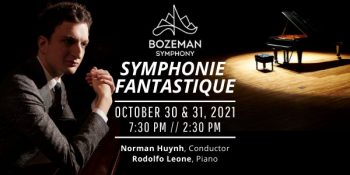 A brilliant Italian-born pianist, 27-year-old Leone was the first-prize winner of the 2017 International Beethoven Piano Competition Vienna. Described as "a true sound philosopher" (Oberösterreichische Nachrichten), Rodolfo released his debut album on in 2018. The all-Beethoven disc features two pillars of the piano repertoire: the "Hammerklavier" Sonata and the "Waldstein" Sonata. His playing has been described as having "impeccable style" and "absolute technical control." (Il Nuovo Amico).
Rodolfo is currently based in Los Angeles where he previously studied at the Colburn Conservatory of Music. He holds both a Master of Music degree and an Artist Diploma from Colburn, where he studied with Fabio Bidini. He previously studied at the Hans Eisler School of Music in Berlin, Germany and at the G. Rossini Conservatory in Pesaro, Italy.
Adult admission for 'Symphonie Fantastique' begins at $27 with discounted student tickets available. Tickets for all Bozeman Symphony performances may be reserved in advance at www.bozemansymphony.org or at the door, based on availability. Those interested may also visit the Symphony offices, located at 1001 W Oak, Ste. 110, or call (406) 585-9774 for further details. •