One of the Shane Lalani Center for the Art's most popular productions, the Holiday Vaudeville, returns for its 14th annual presentation with performances set for December 9th–18th in Livingston.
This high-energy variety show is a rollicking romp through the cherished chestnuts of the season. Show producers have assembled yet another intrepid squad of community performers ranging from the sublime to the spastic who will amaze, amuse and mystify with songs, skits and vigorous acts of vaudevillian virtuosity – all served up with a heaping helping of heart. It's fun for the whole family, and virtually guaranteed to get you in the spirit!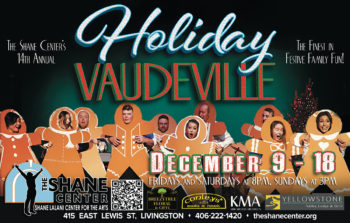 This year's Holiday Vaudeville runs for two weekends only – from Dec. 9th through 18th. Performances take place in the Dulcie Theatre. Show times are Fridays and Saturdays at 8 pm and Sundays at 3 pm. Tickets are $20 for adults, $15 for seniors/students/veterans, and $10 for youth 17 & under. Make reservations now at www.theshanecenter.org or call the box office at (406) 222-1420.
Seating is strictly limited for this show; early reservations are recommended. The Dulcie Theatre and lobby are equipped with a UV air filtration system.
Holiday Vaudeville 2022 is generously sponsored by Conley's Books & Music, Kirk Michels Architects, Breezytree Floral & Gifts, and Yellowstone Valley Lodge & Grill. •