Livingston's Shane Lalani Center for the Arts announces their new concert series 'Shane Center Presents.' This series will present an eclectic roster of world-class musicians in the Dulcie Theatre with performances scheduled throughout the year.
"We're so excited to bring these special concerts to the community," said Erika Adams, Executive Director of the Shane Center. "We produced the Summer Concert Series last year and it did so well, we knew it was time to offer a full year of specialty music programs – people have missed live music!"
The first concert of the new series takes place on Saturday, February 11th and features Joe Robinson, an Australian guitar virtuoso and singer/songwriter adored by a global audience for his world-class musicianship and laid-back Aussie charm. He's also one of Paradise Valley's newest residents when he's not touring the world. Robinson has released seven acclaimed studio albums, performed in 40 countries, and continues to serve a large online audience through livestream concerts (pollstar top 10) and videos that reach millions each month.
Based in the US since 2010, 31-year-old Robinson has established himself as one of the pre-eminent guitar virtuosos of his generation, being featured in The New York Times, Washington Post, Boston Globe, NPR and praised by a who's who of legendary guitar players including Tommy Emmanuel, Steve Vai, Robben Ford, Eric Johnson, Steve Lukather, Albert Lee, Steve Morse, Lee Ritenour, Paco Pena and Jason Becker.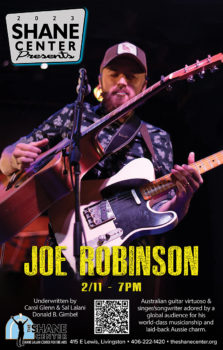 Other concerts in this exciting new series will include Philip Aaberg on April 19th, NY NY Dueling Pianos on July 14th as well as Robin & Linda Williams on September 28th.
Russell Lewis, Artistic Director at the Shane Center added, "This is another way we deliver on our mission – our promise to keep compelling live entertainment available to all. These performers are unique and extraordinary, and we can't wait to host them at the Shane Center."
Tickets are available for each show with season admission available. The shows are expected to sell out, so plan accordingly. Individual ticket pricing is $30 for adults, $23 for seniors/college students/military and $15 for youth. Save with purchase of the 2023 Shane Center Presents Season Ticket Package inclusive of all four shows. Visit www.theshanecenter.org or call the box office at (406) 222-1420 for tickets.
Concessions available. UV air filtration in the Dulcie Theatre and lobby.
The inaugural season of Shane Center Presents is generously underwritten by Carol Glenn & Sal Lalani and Donald B. Gimbel. •