Live music has finally returned to Downtown Bozeman's Rialto, with an excellent slate of musicians set to grace its black box stage this month. Here's a look at just a few of the upcoming happenings.
Local four-piece Sam Platts & the Plainsmen performs Saturday, March 18th. Music begins at 8pm. Advance tickets to this 18+ show are $15. Doors at 7pm.
The energetic Americana band focuses on bringing traditional country and western swing to modern audiences. Sam Platts fronts the group on vocals and archtop rhythm guitar, which is also composed of Lilly Platts (fiddle), J Kane (upright bass), and Bill Dwyer (electric guitar). The group released their full-length album, West Side, late last year.
Platts got his start in music on the windy plains of southern Wyoming, and playing has since taken him across the country and world. Today he and his wife, Lilly, call Southwest Montana home. His songwriting is in the vein of country and western swing, and much of his inspiration comes from rural life and traditional country music. The group keeps a busy schedule and has had the honor of opening for acts like Asleep at the Wheel, Wayne Hancock, Dale Watson and Corb Lund.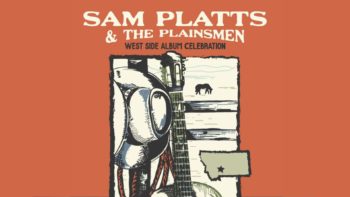 Funky Philly project G. Love & Special Sauce are back in Bozeman on Tuesday, March 21st. Nat Myers will get the music started at 8pm. Advance tickets to this 21+ show are $35. Doors at 7pm.
G. Love grew up equally enthralled with folk, blues, and rap, devouring everything from Lead Belly and Run D.M.C. to John Hammond and the Beastie Boys. After migrating to Boston, he and his band, Special Sauce, broke out in 1994 with their Gold-selling self-titled debut, which earned widespread critical acclaim for its bold vision and adventurous production.
Over the next twenty-five years, G. Love would go on to release seven more similarly lauded studio studios albums with Special Sauce (plus four solo albums on his own), solidifying his place in music history as a genre-bending pioneer with a sound The New York Times described as "a new and urgent hybrid" and NPR called a "musical melting pot."
G. Love's magnetic stage presence, meanwhile, made him a fixture on festival lineups from Bonnaroo to Lollapalooza, and his relentless appetite for tour and collaboration landed him on the road and in the studio with artists as diverse as Lucinda Williams, Dave Matthews, The Avett Brothers, Jack Johnson, and DJ Logic.
Tanner Usrey takes the stage Wednesday, March 22nd with music set to begin at 8pm. Advance tickets to this 21+ show are $20. Doors at 7pm.
The emerging singer/songwriter delivers a vocal styling all his own. Since beginning his career, Usrey has developed into a soulful, Americana-rock artist that heart-wrenching lyrics and soul-touching vocals provide the cherry on top of his unforgettable melodies and hard-hitting sound.
Check out The Love Darts with opening support from Scott Yoder on March 25th. The music starts at 8pm. Advance tickets to this 18+ show are $15. Doors at 7pm.
The hard rock punk band got its start playing venues like the Haufbrau, having since grown into a fine-tuned project featuring some of Bozeman's most energetic guitarists.
Looking ahead, the Benn & Abel Band performs Saturday, April 8th, at 8pm. Advance tickets to this 18+ show are $15. Doors at 7pm.
The duo lives in the space between bluegrass, Americana and the blues. Influences vary from guitar players like Chet Atkins, to songwriters such as Doc Watson and duos like the Milk Carton Kids. They play a mixture of originals and covers, with a new album in the works.
The Rialto is located at 10 W Main St. in Downtown Bozeman. Peruse current happenings and buy advance tickets at www.rialtobozeman.com. Follow the Rialto on Facebook and Instagram for the most up to date event announcements. •