from Patty Boyd
I love love. The 1889 Barn is love. I followed my heart and restored her. I led with my heart too, bravely dealing with the challenges of my budget exploding. My heart protected her. The energy inside her and around her has always been a magic that isn't something you can put words to, but something you feel. Before the restoration she had the high vibration we all want to connect our hearts to. Now, being able to enjoy time at the 1889 Barn connecting with art, well, the space lifts you. The 1889 Barn is now yours to enjoy. She'll stand for at least another 133 years. She has generations more of love to share.
Because I was also led by doing the right thing and thought, "If you have an 1889 Barn on your property… then you must restore it. It is the only right thing, right?"
Enter: The girl who saved the barn! Hi, I'm Patty Boyd and I saved a piece of history because I want to share it with others. Please come for a tour of this special space – a small events venue in Bozeman that sits on 21 acres in beautiful Gallatin Gateway. We will host an Open House on Saturday, February 18th from 12–3pm.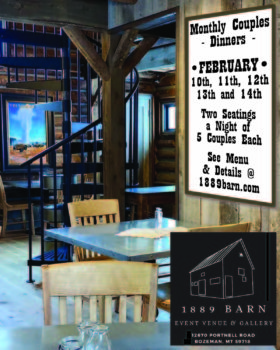 Whether you're looking to host a family reunion, a birthday party, an anniversary, a work lunch, a rehearsal dinner, a small wedding, a bridal shower, any other celebration, the 1889 Barn will provide an unforgettable experience. Special events start this month with tickets available to purchase through the venue website. Please find the monthly couples dinners starting February 10th. The Barn loves love too!
We kick off our first of five Monthly Couples Dinners on Feb. 10th. These dinners will be a unique and unforgettable experience. Starting upstairs in the 1889 Barn loft, moving to the main level, via a spiral staircase, for a seated dinner and then finishing with dessert fireside under the stars in the garden listening to the creek. It is perfectly fitting that From the Heart Foods is our first caterer for Monthly Couples Dinners. Check back to our website to learn who will be catering for the upcoming months. This food fills you and comforts you. It is made with love.
Also launching are Art Showings at the 1889 Barn the first Wednesday of every month at 6pm and all are welcome to come view our the 1889 Barn gallery.
Our next Open House is February 18th from Noon-3:00.
In celebration of our launch you can enter to win a couples dinner AND an overnight stay at the vacation rental on our property. This will be on the evening of May 20th. Click HERE to learn more.
See website for details . Contest starts on Valentine's Day! If you hurry you can book the Yellow Farmhouse with your couples night dinner now. Only one couple gets to do this… full breakfast included. An unplug, breathe and smile overnight escape…
Wasn't Kevin Costner directed from above in Field of Dreams – "If you build it they will come." I'm counting on you to come explore this historic property restored with love.
Visit 1889barn.com to learn more about our upcoming events, or find them on social media for future announcements. The 1889 Barn is located at 12670 Portnell Rd. •