Though the winter solstice is still quite a ways out, Southwest Montana has already received its first supply of mountain and valley snow – a cruel sight for area skiers and snowboarders eager to carve up the hill. Worry not, Bridger Bowl's winter season will soon commence! Here's a breakdown of their most popular pass options so you're ready to go when the lifts open. They also make a great gift for holiday celebrations (wink, wink)!
Enjoy unlimited skiing all season with no black-out dates with the purchase of a season pass. Rates are as follows: $1,075 for adults (25-69), $1,025 for young adults (19-24), $555 for juniors (13-18), and $400 for children (7-12). Pre-school aged youth (6 and under) pay only $15. Senior passes (70-79) are $485, or $15 for super seniors (80+).
Adult Midweek Season Passes (19-69) are also available for $475, or $390 for seniors (70-79). This will grant access to unlimited skiing Monday through Friday all season. Or get your gloves on the Value Pass to ski and ride every day except for blackout dates over busy holidays. These are $875 for adults (19-69), $415 for juniors (13-18) and $300 for children (7-12).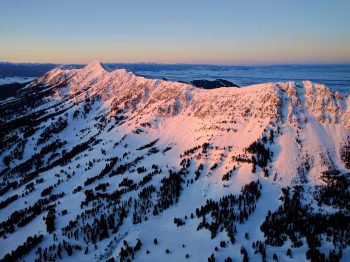 Purchase season passes, upload pass photos, and sign electronic agreements through Bridger's website. Be "on-line" rather than "in-line." Go straight to the lifts on opening day! Payment plans and family discounts are available.
Bridger's 2023-24 ski season promises to be one of plentiful snow and slopeside excitement. The mountain's Community Events Series kicks into high gear in the new year, but truly begins with the annual Torchlight Parade on Dec. 30th. See website for details.
The ski area is located on the east slope of the Bridger Mountain Range. For season pass information and event information, visit www.bridgerbowl.com. Bridger's projected Opening Day is Friday, December 8th. •