Quirky Sondheim musical brings indoor theatre back to Shane
The Shane Lalani Center for the Arts has announced the return of community theatre productions to the Dulcie Theatre with Stephen Sondheim's musical comedy The Frogs from October 22nd through November 14th.
Loosely based on a comedy written in 405 B.C. by Aristophanes, The Frogs was freely adapted by Sondheim and Burt Shevelove in the mid-70s, and later expanded and further tinkered with by Nathan Lane. The Frogs uses the setting of ancient Greece to playfully explore two of the great challenges of human existence: confronting our fears and challenging the distractions that prevent us from achieving our goals.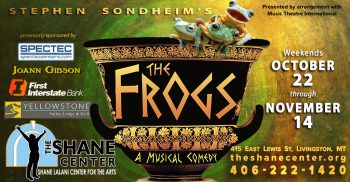 Both funny and poignant, the musical follows Dionysos, Greek god of wine and drama, and his slave, Xanthias, on a journey to Hades to collect renowned critic and playwright George Bernard Shaw so that he may enlighten the easily misled masses of Earth. Along the way, Dionysos and Xanthias meet Herakles and Pluto, of course, but also Chekhov, Ibsen, Brecht, and a creepy chorus of frogs. When Shakespeare shows up and declaims his greatness the battle of wits begins in earnest. The Frogs deftly mixes Aristophanes' pratfall satire with an amazing Sondheim score, and takes up the serious issue of what role the Arts should play in a world beset by war, pestilence, and short-sighted folly.
The Frogs runs weekends from Oct. 22nd through Nov. 14th. Performances take place in the Dulcie Theatre at the Shane Lalani Center for the Arts in Livingston. Show times are Fridays and Saturdays at 8pm and Sundays at 3pm. Tickets are $20 for adults, $15 for seniors and college students, and $10 for youth 17 and under. To make reservations, visit www.theshanecenter.org or call (406) 222-1420.
Committed to community health, the Shane Center is exercising caution in the return to live indoor programming. Seating is limited to 50 seats for each show to allow for audience distancing. Other health protocols may be in place, including audience mask requirements.
The Frogs is generously sponsored by Joann Gibson, SPECTEC/TIC – Walter & Regina Wunsch, First Interstate Bank, and Yellowstone Valley Lodge & Grill. •