Plein air artist exhibits at Downtown Livingston space
Green Door Gallery will host the work of Aaron Schuerr in the waning days of summer. An artist's reception is set for September 24th from 5–8pm during the Fourth Friday Livingston Art Walk. It will remain on display throughout the month at the downtown space.
From remote villages in Morocco to the California Coast, Aaron has ranged far and wide to satisfy his artistic wanderlust. He has embarked on solo painting treks across the Grand Canyon and most recently, across the Beartooth Mountains in Montana.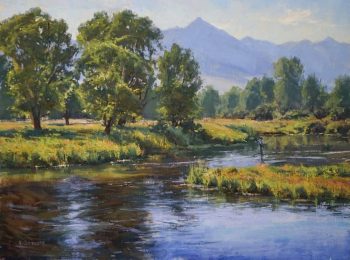 In 2020, Schuerr was guest on The Kelly Clarkson Show, about his plein air paintings. His work has been featured in publications as diverse as The Daily Telegraph, The Times of London, Bored Panda, My Modern Met, Southwest Art and Plein Air Magazine. He's a frequent contributing writer to The Pastel Journal and The Artist Magazine, and has penned a cover article for Plein Air Magazine.
Schuerr is represented by the Legacy Gallery, Mission Gallery, Montana Trails Gallery and Huse/Skelly Fine Art Gallery. He resides in Livingston with his wife and three sons.
The Synergigi-designed Green Door Gallery can be found just above Wheatgrass Saloon, a cold-press juice bar and eco-boutique in historic Downtown Livingston. Green Door celebrates the work of local and regional artists and presents a culturally engaging experience for the viewer. The gallery is located at 120 N Main St. Learn more by visiting www.wheatgrasssaloon.com. •