Push yourself and teammates in support of an important cause with HRDC and local community members by taking part in the third annual BOAR (Blueprint Obstacle Adventure Race) on Saturday, August 26th. Following a successful turnout the last two summers, event organizers are excited to open the course once again for a fun, physical afternoon with a significant impact.
HRDC and a talented volunteer race committee will host this 5K and 1K Obstacle Race. Proceeds from the race will benefit the agency's services to support youth experiencing homelessness. HRDC's BOAR is a family friendly and team-oriented event. The race is open to all ability levels and will challenge team members to problem-solve and overcome obstacles together.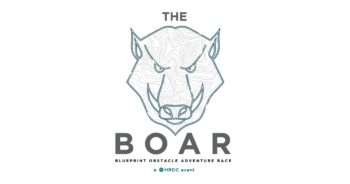 The 1K race is a unique opportunity for individuals of all abilities to participate in an obstacle race. People with developmental and mobility disabilities are welcome. Event organizers want everyone in the community to experience the BOAR so they have designed obstacles to be inclusive of most abilities. Registration ranges $25 to $35.
The 5K race is an obstacle race designed to test your mental and physical strength and challenge team members to problem-solve and overcome obstacles together. It will start and finish at Glen Lake Rotary Park. Competitive heats will be available. Registration ranges $25 to $35.
In late 2015, HRDC opened Blueprint, a home dedicated to serving youth experiencing moments of homelessness in Gallatin Valley. Serving the community from a new location with an expanded capacity, the program features case management and support services, rent assistance and access to long-term housing options. This transitional housing offers a safe and inclusive environment for our community's youth, ages 16-24. Blueprint is a youth-centered, strength-based, and solutions-focused program that supports the following areas: educational attainment, employment, development of positive self-image, increase in social competencies, development of healthy boundaries, providing choices, and integrating conflict resolution skills.
For more information about the BOAR and to register, visit www.runtheboar.com. For information about HRDC, visit www.thehrdc.org. •