Southwest Montana is rich with culturally diverse entertainment and premier host venues. Big Sky's Warren Miller Performing Arts Center continues to deliver audiences with regular opportunities to experience the very best in live music, theatre and specialty performance.
Next up, International Guitar Night returns to Big Sky on Tuesday, February 7th. The show begins at 7:30pm with advance tickets available for $20–$55.
Each year, founder Brian Gore invites a new cast of guitar luminaries from around the world for North American concert tours highlighting the diversity of the acoustic guitar. The 23rd Anniversary North American Tour of International Guitar Night features Finnish Guitarist Olli Soikelli, Soloist and Chamber Musician Stephanie Jones, Flamenco master Jesus Guerrero from Spain, and Canada's traditional jazz guitarist and vocalist Jocelyn Gould.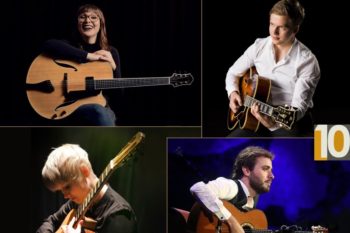 Following on Saturday, February 11th, the venue welcomes NPR's Planet Money Live!. The award-winning blog and podcast comes to Big Sky as they find creative, entertaining ways to make sense of the complicated forces that move our economy. The show begins at 7pm. Advanced tickets range $20–$55.
In a debut performance, Planet Money hosts Mary Childs, Alexi Horowitz-Ghazi and Greg Rosalsky will present an exciting evening about economics that features the "Ghost of Adam Smith," a quirky journey through the history of work perks, and a look at what business schools got right (and wrong) about how the last few unprecedented years unfolded. The night will feature live original scoring and performance by Jesse Perlstein. Get ready to test your economics knowledge and learn something new!
Later this month, Memphis Jookin: The Show comes to WMPAC. Enjoy an evening of exhilarating street dance on Saturday, February 25th, beginning at 7:30pm. Advance tickets range $20–$55.
Conceived and choreographed by renowned dance artist Lil Buck, this performance is an ode to Memphis, Tennessee – birthplace of the singular dance style known as Memphis Jookin'. The show takes audiences on a journey to the fabled city to chronicle how the artform emerged from local street dance to international phenomenon. The production stars a cast of highly skilled Memphis Jookin' dancers and a DJ performing to a soundtrack that evokes the energy of the streets, the hallways and the clubs where this distinctly American artform was born.
For further information or to purchase tickets for these performances and other upcoming events, visit www.warrenmillerpac.org. •