Nicole Assaad stars in Yellowstone Ballet's 30th annual Nutcracker
The Yellowstone Ballet Company presents its 30th annual production of Tchaikovsky's holiday classic The Nutcracker at 2pm on Sunday, November 28th at the Willson Auditorium.
Nicole Assaad, formerly of Hong Kong Ballet (HKB), dances the role of Clara, the girl who breaks the Rat Queen's evil spell that encased Count Drosselmeyer's nephew, the Prince, in the form of a wooden nutcracker. At age 15, Assaad with gold and silver medals from the American Dance Competition and a bronze medal from the World Ballet Competition moved to New York City to study at the Gelsey Kirkland Academy under a full scholarship. At age 16, she joined the Gelsey Kirkland Ballet Company, performing various roles, such as "Sugarplum" in The Nutcracker, "Kitri" in Don Quixote, Diamond and Charity fairies in the Sleeping Beauty, and the classic pas de deuxs, The Flames of Paris and Harlequinade.
Assaad's performance in Flames of Paris was described in Hayglund's Heel Blog as "Big energy, big jumps, big turns, charming stage presence…an explosive performance." The Huffington Post commented, "If there were a prize for adorableness, Nicole Assaad would have run off with it for her performance of Columbine in the closing Commedia dell'arte classic, Harlequinade. Beyond being pretty to look at and a strong technician, Assaad packs her dancing with little moments that show how well she has studied the part."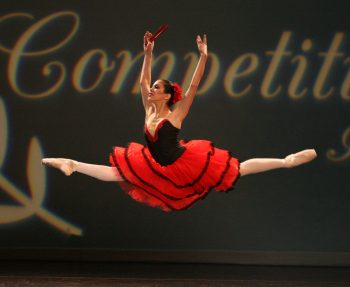 While dancing at the Gelsey Kirkland Ballet Company, Assaad submitted an audition video to HKB and received a contract. She'd never been out of the U.S. before, but after thoroughly researching Hong Kong and the company she felt safe starting her career abroad. "l thought, why not?" she says, noting that the company's expansive repertoire was a big draw. "I gave my parents a huge speech about what a great opportunity it is – I had to warm them up to the idea."
Besides being showcased in Dance Magazine and Pointe Magazine, Assaad was featured in Hong Kong Living Magazine, "Plié perfect ~ How Nicole Assad danced her way into the Hong Kong Ballet." She explains, "I used to get very nervous on stage when I was younger until my mum taught me to meditate before going on stage. Meditation and focus has been my key to reach complete Zen on stage. Once I achieve that level of relaxation I feel nothing but joy."
Joining Assaad in YBC's 30th annual The Nutcracker, are Molly Huemphner-Groeschl as the Sugar Plum Fairy and Damien Johnson as the Nutcracker Prince/Cavalier. Last but not least, Bozeman's artistically passionate and delightful Raison D'être Dance Project under the direction of Erin Levi and Genevieve Trygstad-Burke join the production with their spectacular choreography and performance in the Snow Scene and Waltz of the Flowers.
YBC under the artistic direction of Kathleen Rakela, a recipient of the Montana Arts Council Fellowship for the Performing Arts, has been featuring local, national, and international dance talent in the Livingston/Bozeman area since 1990. She also runs the Yellowstone Ballet Academy, whose students have received scholarships to world class ballet training centers and have danced professionally with Compania Nacional de Danza, Spain; Pacific Northwest Ballet; the Royal Danish Ballet; Kansas City Ballet; State Street Ballet; Texas Ballet Theatre; Staatsballet Berlin; Bavarian State Ballet, Germany; Ekaterinburg State Opera and Ballet Theatre in Yekaterinburg, Russia and the Vienna State Opera Ballet.
To encourage families to attend YBC's The Nutcracker, every adult ticket purchase qualifies for a FREE child ticket. Children can also come dressed as the Snow Queen, the Nutcracker Prince, the Sugar Plum Fairy, Count Drosselmeyer or any other Nutcracker character. During intermission there will be a Nutcracker costume contest. Prizes for best costume will be presented along with a free gift for every child in attendance.
Reserved tickets for YBC's The Nutcracker are available at www.yellowstoneballet.info. For more information, email yellowstoneballet@gmail.com or call (406) 222-0430. •